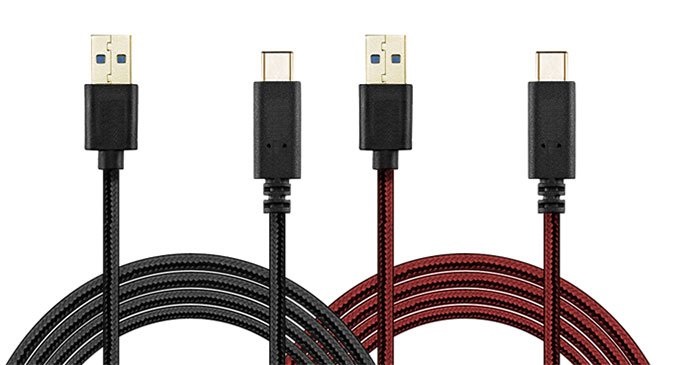 As we eagerly wait for Nintendo to reveal more official details about the Nintendo Switch on January 12, new information about the system continues to trickle in from unlikely sources. Today's report suggests the new console will take away the company's penchant for proprietary chargers and instead opt for the USB-C standard to power the system.
That suggestion comes via EB Games Australia, which briefly listed a trio of Nintendo Switch accessories from cheap hardware maker @play. While the listings were quickly removed, screenshots from Technobuffalo and other sources confirm that the accessories include a "Nintendo Switch Extra-Long 3M charging cable" in addition to an image of an apparent USB-C cable.
The product description listed as a "USB-A to USB-C charging cable compatible with Nintendo Switch console" leaves few questions about the Switch's charging standard. And the retail leak comes on top of previous reports, via multiple unnamed Nintendo sources, that current Nintendo Switch prototypes use USB-C for their charging needs.
Adopting a universal standard like USB-C would be a big change for Nintendo, which has used a slew of proprietary charging ports and bulky A/C adapters for its consoles and portable systems over the decades. In 2003, that proprietary charging port also doubled as a replacement for the headphone jack on the Game boy Advance SP.
Nintendo has managed to stick with a single charger and port design for the 2009 Nintendo DSi through to last year's New Nintendo 3DS XL. However, the company caused controversy when it decided not to include a charger in the New Nintendo 3DS XL package "instead of increasing the cost…by charging consumers for a part they may already own," as Nintendo said. it expressed.
Using a cheap, standard USB-C cable and wall charger would help cut that cost and allow users to choose from a number of readily available third-party alternatives for charging cars and the like. USB-C's current capacity of up to 3A (or 5A in the "power delivery" format) could also charge the Switch much faster than old Nintendo handhelds (the 3DS adapter currently maxes out at 900mA). And the USB-C standard can handle up to 100W of power in newer laptops, which should be more than enough for a smaller portable game console.
Interestingly enough, before the Wii U finally switched to HDMI, Nintendo used the same proprietary port for its composite A/V cables for every Nintendo home console, from the Super NES to the Wii. Now that the Switch uses USB-C for charging and HDMI for output, Nintendo's own port days may finally be over.