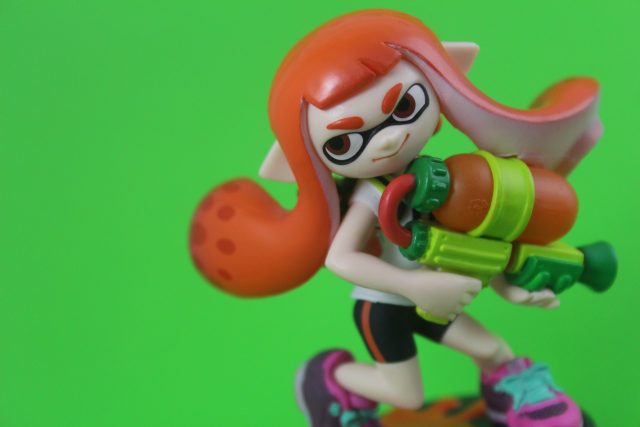 Wii U sales may be a bit behind the competition, but that hasn't stopped Nintendo from turning in another surprising profit. For the three months from April 1 through June 30, Nintendo posted a net profit of ¥8.28 billion yen (£43 million, $67 million) on the back of more than ¥90 billion (£466 million, $729 million) to sales. This follows Nintendo's total profit of ¥24.8 billion ($207 million, £136 million) for the fiscal year ended March 31.
Nintendo's profit was well above analysts' estimates of a ¥6.3 billion (£32 million, $50 million) loss, and vastly improved from its ¥9.5 billion ($76 million, $76 million) loss. £49 million) that the company reported for the same period last year. Nintendo cites strong software sales and "favorable amiibo sales" for its earnings, with 4.5 million games shifted to Wii U and 7.9 million games shifted to 3DS.
Comic shooter Splatoon performed particularly strongly, with 1.6 million copies sold. It also helped move some consoles, with 470,000 Wii Us sold. The 3DS sold just over 1 million units in the same period. Unfortunately for Nintendo, sales of the Wii U continue to decline year on year, with the console selling 510,000 units in the same period last year.
Much of that decline came from the US, where Wii U sold just 190,000 units, a full 90,000 fewer than the same period last year. Interestingly, however, sales in Japan, Nintendo's home country, rose from 60,000 to 150,000 this year. Elsewhere (i.e. everywhere except Japan and the US), Wii U sales fell by 40,000 to 130,000 units sold.
Still, those 470,000 Wii U sales have finally pushed the console past the magic mark of 10 million units sold, nearly three full years after its initial launch. In comparison, Sony's PlayStation 4 reached the 10 million unit mark less than a year after its launch. The Wii U's predecessor, the Wii, also sold more than 10 million units in less than a year.
The relative failure of the Wii U could mean that Nintendo is releasing its next console, currently codenamed NX, sooner than expected. Just yesterday, the rumored hybrid home and portable console was being considered for Square Enix's forthcoming launch Dragon Quest X and Dragon Quest XI.