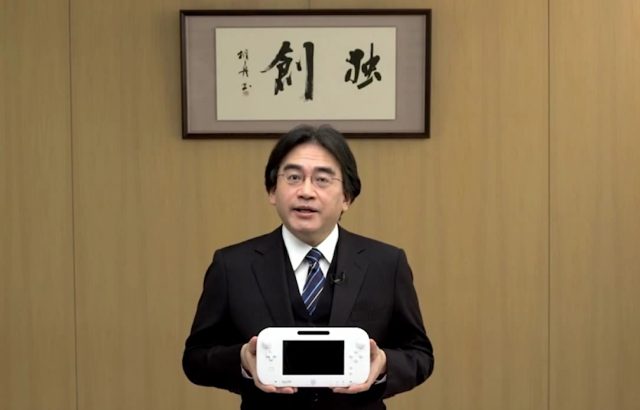 The close of Nintendo's fiscal year 2015 coincided with the annual Japanese shareholders' meeting, an event whose closing Q&A session has been transcribed, translated and posted in English every year since 2010. This year, the company spoke candidly about its position in the gaming market, its slow transition into smartphone game development, and more.
Nintendo president Satoru Iwata answered most of the questions, the first being about the prices of downloadable games – and why they are higher than boxed ones. Iwata described the risks major retailers take when buying in large quantities, then acknowledged that Nintendo has "a different wholesale price for these two versions".
But he didn't mention any attempts by Nintendo to adjust prices for customers who don't care about the "business risks" faced by retailers and who just want a fair game price; instead, he hinted that the company's forthcoming replacement for Club Nintendo, coming this fall, "could include a system that would allow Nintendo to make (individual) offers to each consumer." Iwata confirmed that Nintendo's total sales of downloadable games reached 31.3 billion yen — about $254 million — in revenue, which he said was a 30 percent increase from fiscal year 2014.
When a shareholder pressured Iwata about the Wii U's poor sales performance, the president offered as appalling, double-negative a response as we've ever heard: "I can't disagree with your indication that the Wii U is the most unfavorable going through the situation."
That response prompted talk of the forthcoming "NX" console – which Iwata said wouldn't see a big, detailed reveal until 2016. Despite a lack of details, Iwata continued to talk about NX being the successor to both Wii U and the 3DS, which makes us wonder if the system will be a hybrid device intended for both solo/portable and shared living room play.
Iwata admitted that the NX System was announced well before its more official reveal to assure the public that Nintendo was still optimistic about the market for dedicated gaming devices. "More than a certain number of people thought that Nintendo would give up the specific game system business and focus on developing smart device applications," said Iwata. "Such a tone was often seen through the media."
"We didn't get the fans excited"
Shareholders agreed with Ars' assessment at E3 2015 that Nintendo had the worst performance of any major gaming company, and questioned why the company showed so few playable games at its June expo. Shigeru Miyamoto, a longtime Nintendo producer and designer, responded that this year's event had a narrower focus on games that came out in 2015 "because compared to last year, we're seeing people in the U.S. gradually moving away from the compelling nature of Wii U hardware" – meaning he saw less reason to show off projects like last year's "Giant Robot" demo.
However, none of Miyamoto's 2014 demos resurfaced as a bigger title in 2015, and three of Nintendo's biggest E3 2015 titles:Super Mario Creator, Yoshi's Wooly World and Super Smash Bros. for Wii U—already shown in extensive form at previous fairs. Miyamoto also spoke of a serious lack of third-party content, making an overall assessment: "We recognize our fans' criticism that we haven't thrilled them with new proposals." Iwata also echoed that sentiment, saying, "We recognize that we let down some online viewers of this year's E3, especially the ardent Nintendo fans, because we didn't show what they expected." sly reference to the forthcoming Wii U Zelda game is an E3 no show this year.
Miyamoto also took a gander at Sony's Project Morpheus virtual reality system, telling shareholders, "I saw some dream-like demonstrations whose schedule and format for commercialization are unknown." He also criticized VR systems that "cannot be played by more than one person at the same time" – even though we played Ars Morpheus games with multiplayer modes (featuring liberally from Wii U's Nintendoland, on that). Iwata shared this "pick-up-and-play" point of comparison, telling shareholders that "unlike the other booths in general, most visitors to our booth smiled and actually picked up the controllers and played our games" – never mind the fact that Nintendo actually had one fewer individual games to play on the E3 show floor than the other major publishers.
Smart with smartphone games?
When asked about the company's previously announced smartphone game plans, Iwata held a semantic discourse on the term "free-to-play", telling shareholders that Nintendo preferred the term "free-to-start". – which, as far as we can tell, means the same thing. Anyway, Iwata strongly suggested that all Nintendo games on smartphones rely on microtransactions: "The fact is that game software with a one-time payment system doesn't do great on smart devices," he said.
That's when Iwata spoke incredibly long about the various pricing models that smartphone games have adopted – even games that use nasty tactics to induce "psychological arousal" – out of concern that "Nintendo could move to the notorious business model that charges a small fee. asks". number of people are paying exorbitant amounts of money and that Nintendo's brand image could be damaged." Despite that warning, however, Iwata did not clarify exactly what pricing model the company could use, other than that "since Nintendo wants to nurture the value of software, there will be a limit how low a price can be." want to link to our game applications."
He also stressed that the company "didn't plan to release a lot of game applications from this year (when our first smart device application is released) to next", explaining that Nintendo smartphone games will be treated as a "service" as opposed to a "product".
"If the game can't provide services that evolve even on a daily basis, it can't entertain consumers in the long run," Iwata said. "That's why we want to spend enough time on the service aspect of each title, and we want to grow each of our small number of game applications with the objectives I just mentioned."