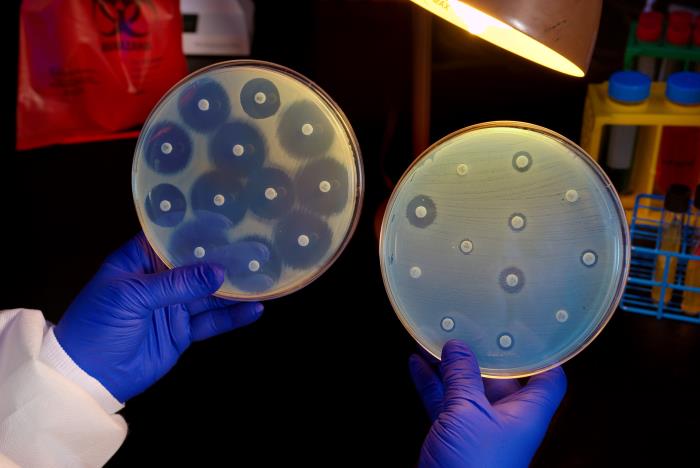 According to the latest surveillance data from the Centers for Disease Control and Prevention, several strains of "nightmare"-resistant bacteria lurk in healthcare facilities across the country. But the data also suggests that recently implemented control efforts are helping to eradicate the deadly germs.
The data, published Tuesday in the CDC's Morbidity and Mortality Weekly Report, focused on bacteria resistant to a group of antibiotics called carbapenems, which are often used as a last resort. Carbapenem resistance is common in bacteria in the Enterobacteria family, including common gut pathogens such as E coli and Klebsiella. This carbapenem-resistant Enterobacteria (CRE) came on the clinical scene from the early 2000s and they tend to have resistance to many or almost all other antibiotics, in addition to carbapenems. In fact, CRE causes terrible infections with death rates as high as 50 percent, known as nightmare cases, as the CDC likes to call them. For this reason, CRE is considered one of the greatest microbial threats by the CDC and the World Health Organization.
In 2009, the CDC issued a CRE-specific guideline to try to monitor and effectively control and eliminate CRE cases in healthcare facilities, where they often cause blood, catheter and central line infections. The guideline instructs health professionals to do things such as use lab testing to monitor clinical isolates, screen health professionals who may asymptomatically carry the deadly germs, place infected patients in single rooms and under contact precautions, and wash hands.
Last year, the agency also stepped up its laboratory surveillance at health centers, conducting more detailed analyzes on collected CRE isolates, as well as a similar study on germ-, carbapenem-resistant Pseudomonas aeruginosa (CRPA). The increased analyzes included looking at the resistance levels of each isolate and what types of genes were responsible for that resistance — there are many genetic elements that can help bacteria evade carbapenems.
In the first nine months of 2017, the agency's network of labs collected and analyzed 5,776 isolates from various healthcare facilities in 32 states. Of those isolates, about 25 percent produced carbapenem-disrupting enzymes called carbapenemases. 1,401 CRE and 25 CRPA were identified.
Scary numbers and good news
Of those carbapenem-resistant isolates, 1,205 (84.5 percent) defeated the antibiotic as a last resort by coding for the common carbapenemase, called KPC, short for Klebsiella pneumoniae carbapenemase. The other 221 strains (15.5 percent) carried at least one of four less common, but of concern, genes encoding different carbapenemases. Those enzymes are New Delhi metallo-beta-lactamase (NDM), Verona integrin-encoded metallo-beta-lactamase (VIM), imipenemase (IMP), and oxacillinase-48-like carbapenemase (OXA-48).
The agency highlighted these genetically rarer carbapenem isolates in a press release and teleconference with reporters, leading to some confused headlines. From an epidemiological standpoint, the agency wants to catch these less common species before they become more common, such as the KPC-carrying CRE. But that's not to say these necessarily increase or be more dangerous than the regular KPC-carrying CRE — either in terms of killing a higher percentage of patients or more freely spreading their drug resistance to their brethren.
During the conference call, the CDC's deputy director, Dr. Anne Schuchat, noted that the surveillance data does not include death rates associated with those 221 less common types of CRE. And the molecular data did not include an assessment of whether the enzymes were coded for genetic elements that bacteria can readily share among themselves. (Previous work suggests that many of them, including KPC, can be found here). In addition, this level of surveillance is still relatively in its infancy, so there isn't enough data to say how common these less common species are, or if they're increasing or decreasing. There are no trend data for specific types of CRE yet.
However, the good news is that there is enough data on CRE in general to say they are possible diminishing general. Based on data collected from CDC's National Healthcare Safety Network (NHSN) between 2006 and 2015, the rate of carbapenem resistance among Enterobacteria isolates from short-stay acute care hospitals fell from a peak of 10.6 percent in 2007 to 3.1 percent in 2015.
CRE prevalence is declining

ESBL prevalence remains relatively stable
Researchers compared that drop to another's rates with regard to drug resistance type Enterobacteria, extended spectrum lactamases (ESBLs). The agency also tracks germs that have this type of resistance, but it hadn't implemented guidelines for controlling ESBLs as it had done for CRE. Over the same period from 2006 to 2015, the percentage of ESBLs remained relatively stable, ranging from 17.6 percent in 2006 to 16.5 percent in 2015.
The CDC concluded that "these data suggest that an early aggressive response, as outlined in CRE-specific infection prevention recommendations released in early 2009, may slow the emergence and even reduce the occurrence of infections from resistant pathogens."