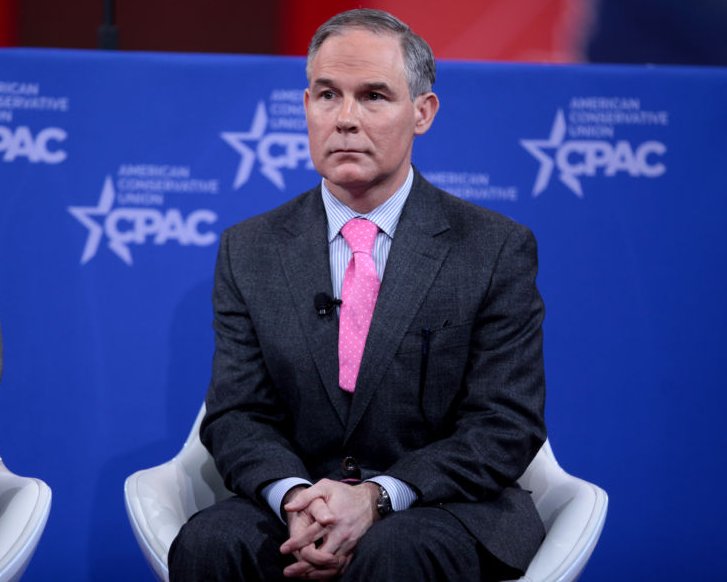 Former Oklahoma Attorney General Scott Pruitt was confirmed last week as administrator of the Environmental Protection Agency (EPA) in a 52 to 46 vote in the Senate. His scary confirmation is safe — Pruitt yesterday addressed EPA employees as their new boss — but last night a slew of emails were sent from Pruitt's office during his tenure as Oklahoma attorney general. Collectively, they could shed light on how closely Pruitt may be willing to work with the industries he is now responsible for regulating.
On Tuesday night, the Center for Media and Democracy (CMD) received 2,500 emails from the Oklahoma AG office sent during Pruitt's tenure. The CMD had requested the emails in a 2015 open records request, but the AG's office initially turned over only 411 of the 3,000 emails. This month, with Pruitt's vote a few days away, the CMD petitioned a judge to finally turn over the missing documents. The judge gave the Oklahoma AG office until Feb. 21 to share the remaining emails, which spanned more than 7,500 pages. Senate Democrats tried to delay the vote on Pruitt's nomination until the remaining emails were released, but were unsuccessful.
The New York Timeswho had been able to see some of the emails in advance because of requests for data from the paper's own reporting notes that the emails "do not contain any requests for [Pruitt's] intervention explicitly in exchange for campaign contributions, although Mr. Pruitt worked separately as a member of the Republican Attorneys General Association to raise money from many of the same companies.
Instead, the emails show that oil and gas companies such as Devon Energy, lobby groups such as American Fuel & Petrochemical Manufacturers (AFPM), and law firms representing oil and gas interests wrote letters and talking points that Pruitt wrote on behalf of the Oklahoma Attorney's Office. general.
The New York Times previously reported that Pruitt sent a letter to the EPA in 2011 accusing him of overestimating the amount of air pollution associated with drilling new natural gas wells in Oklahoma. Through requests for public records, the Time discovered that the letter was written almost word for word by Devon Energy. The CMD says the new emails show more of that relationship. "In one e-mail, Devon Energy helped draft language that was later sent to the EPA by Pruitt on mitigating methane from oil and gas fracking." The New York Times wrote this morning that the new emails show that the Oklahoma Attorney General's office corresponded more often with Devon Energy than any other energy company.
Pruitt also challenged the EPA's biofuel rules, which require energy companies to cut gasoline with ethanol and other biofuels. According to Bloomberg, "In a July 13, 2013 email, AFPM asks Pruitt to petition the EPA to challenge biofuel quotas. "We believe it would be most effective for Oklahoma to file a separate waiver request emphasizing 'serious environmental damage' as this argument is more credible if it comes from a state," an AFPM told representative to Pruitt.' Pruitt filed an objection to the biofuel standards later that year, though his reasoning appears to have been that increasing biofuel to gas could harm consumers' cars and divert corn production from food to fuel.
The tension is interesting because Pruitt will now be in charge of the agency that determines how much biofuel should be added to gasoline. President Trump has expressed support for biofuels such as ethanol, which are an important part of the economy in many states where Trump won decisively. During Pruitt's Senate confirmation hearing, the new administrator indicated that he would respect the EPA's existing standards for renewable fuels.
The Oklahoma Attorney General's office has been directed to release further emails by Feb. 27 regarding subsequent requests for documents made by CMD.
Pruitt's early days
Meanwhile, automakers have petitioned Pruitt to review EPA rules regarding fuel economy standards that were announced in January, just before the new administration took office. The rules require automakers to achieve an average fuel economy of more than 50 miles per gallon by 2025.
The Auto Alliance, which represents BMW Group, Fiat Chrysler, Ford, GM, Volvo, Volkswagen, Toyota and others, wrote Wednesday (PDF) that the previous EPA's rule was never finalized because it was not in the federal registry, a daily newspaper of federal government activities maintained by the National Archives and Records Administration. The Auto Alliance also said there is legal precedent for the new EPA to reconsider recent decisions.
Although the EPA determined in the fall that automakers could meet 2025 targets more fuel efficient than the agency predicted in 2011, automakers claim they were promised a re-evaluation of 2025 targets in April 2018 and that the EPA broke that promise by finalizing of the rules in January 2017.
In 2011, the EPA estimated that increasing fuel economy would cost automakers about $200 billion over 13 years, but save car owners $1.7 trillion over the life of the new vehicles.