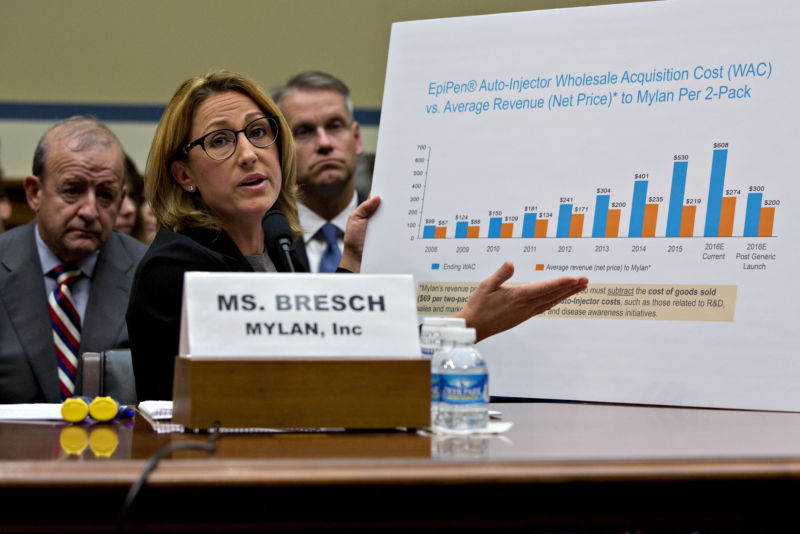 A whopping 83 percent of Mylan shareholders voted against the company's astronomical compensation packages. But a majority of shareholders still support most of the company's beleaguered directors, according to new filings with the U.S. Securities and Exchange Commission.
Ars reported the general results of the shareholder votes that took place last week at an annual meeting in Amsterdam. The vote was closely watched after a group of shareholders, dissatisfied with the EpiPen pricing scandal and executive pay, began campaigning to reject executive compensation plans and oust the board of directors – something that would be required under the board's rules. Mylan requires a two-thirds majority. While shareholders have not evicted the incumbent board members, Mylan declined to disclose the number of votes.
However, those numbers were revealed yesterday in a public filing with the SEC — and they have reignited calls for layoffs and reform.
The vote breakdown shows that shareholders overwhelmingly opposed the compensation packages – 83 percent voted against them in the "Say-On-Pay" vote. However, most of the board of directors managed to gain majority support for their positions on the board of directors. Only Wendy Cameron, the compensation chair, had less than a majority of support: only about 44 percent of the nearly 400 million votes were in favor of her retaining the position.
CEO Heather Bresch, who has become the public face of the company after appearing for media interviews and defending EpiPen's pricing before Congress, received strong support, with about 72 percent of the vote in her favor.
Chairman Robert Coury also did reasonably well. He sparked outrage when the company revealed he pocketed $97 million last year and reportedly said (paraphrasing) that critics of the company "can copulate with themselves." About 66 percent of shareholders voted to keep him on the board.
Despite majority support — far more than what board members needed to hold their position — some minority shareholders are still calling for change.
In a letter to Mylan (pdf), the shareholders who led the campaign to oust the board said they felt the 56 percent vote against Cameron was enough to call for her immediate resignation. And the 83 percent who voted against the pay plans "effectively produced a vote of no confidence in Mylan's entire board of directors." They also called for Coury to resign and for the board to be reconstituted.
They wrote:
As long-term shareholders, we believe Mylan's independent directors must act quickly or risk further eroding shareholder confidence and value. Mylan's stock price has already fallen nearly 50 percent since peaking in April 2015, and the company remains under legal, regulatory and public scrutiny for its EpiPen pricing practices.
They also called for changes in governance to make board impeachment easier in the future, noting that about 90 percent of S&P 500 companies have majority decision-making policies. "There is no defensible rationale for Mylan's current policy requiring a supermajority vote to remove directors," they wrote.
The letter was co-written by New York City Comptroller Scott Stringer, who oversees New York City pensions, which own more than 1.1 million shares of Mylan. In a statement emailed to Ars, he added:
Elections are important. Supervision is important. Accountability is important. This is easy. Shareholders cast majority or near-majority votes against multiple directors. By keeping them in the boardroom, Mylan would once again ignore the shareholders it is supposed to represent. Continuing on this path will only further undermine investor confidence.
When contacted by Ars, Mylan declined to comment on the shareholder letter and calls for his resignation. Instead, the company pointed to a statement in the SEC filing that reads:
Mylan's Board of Directors respectfully acknowledges shareholder votes on the Say-on-Pay ballot, as well as with respect to the re-election of its Board members. In response, Mylan's board will establish an extensive shareholder engagement program over the coming months to solicit and understand the perspectives of Mylan's shareholders. This outreach will be the first phase of a careful review that Mylan's board will conduct going forward in response to the vote.