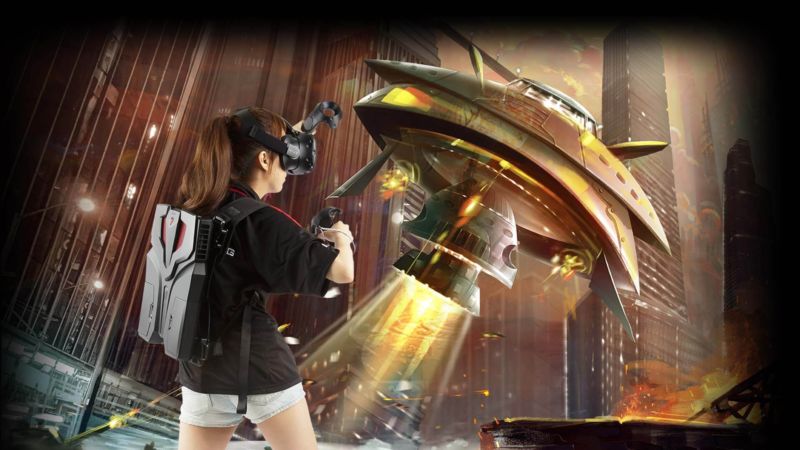 Backpack PCs for virtual reality gaming were all the rage at this year's Computex in Taiwan, but it looks like MSI is the first of that early batch to have a finished product. Dubbed VR One, MSI's backpack PC is nothing like the prototype, with the gaudy red design dropped in favor of a sleeker but altogether more "l33t gam3r" angular look. There's no way you're looking cool with this thing strapped to your back.
On the plus side, MSI claims the VR One is the thinnest and lightest VR backpack out there, weighing in at 7.9 lbs (3.58 kg). That makes it even lighter than HP's already sleek Omen VR backpack, weighing just 4.5kg. The VR One is designed for use with the HTC Vive and includes all the relevant connectors and sockets for the Vive's many, many cables and boxes. It also works great with the Oculus Rift.
Inside the VR One is an "overclocked" Intel Core i7 CPU (probably the 6700K), along with an Nvidia GTX 1070 graphics card, which has more than enough horsepower to handle just about any VR game. MSI hasn't revealed any other specs, but it's likely to have at least 8GB of DDR4 RAM and an SSD (moving parts and jumping around don't mix well anyway). I/O consists of headphone and microphone jacks, HDMI output, mini DisplayPort output, USB Type-C/Thunderbolt 3, and four USB 3.0 ports.
Keeping things cool is a custom cooling system with two 9cm fans and nine heat pipes, along with a slew of vents. MSI claims the VR One runs at full speed at a relatively quiet 41dBA.
As for the all-important battery life, MSI claims that even when running at full power with an overclocked CPU, the VR One lasts about 1.5 hours. Two battery packs snap onto the left and right of the device and can be swapped on the fly to keep VR gameplay going. The latter will be a particularly useful addition for places like The Void, which uses backpack computers for that purpose Ghostbusters: Dimension VR experience.
MSI hasn't revealed a price for the VR One – given the specs and batteries it won't be cheap – but promises it will hit stores before the end of the year. If you're looking for a backpack PC right now, HP is taking developer requests for its Omen X VR backpack, which is currently shipping in limited quantities.
List image by MSI