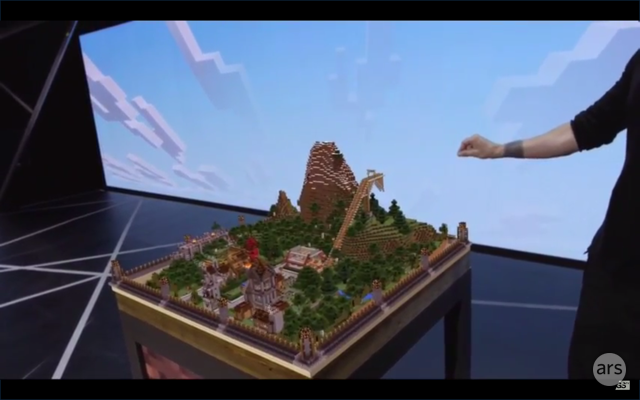 LOS ANGELES — At Microsoft's pre-E3 press conference, the company announced a strategic partnership with Valve VR, complementing its partnership with Oculus, which was revealed last week at an Oculus press conference in San Francisco. In other VR news, Microsoft invited Mojang's brand director Lydia Winters to the stage to present a version of Minecraft built specifically for Microsoft's HoloLens.
Corporate Vice President of Microsoft Studios Kudo Tsunoda told the audience that Microsoft is "working closely with Valve to make Windows 10 the best platform for VR gaming." Valve's own SteamVR development kit is still in development, but Ars got a chance to play with it at Valve's Seattle office last week.
Microsoft also reiterated that it would be working with Facebook-owned Oculus VR with the goal of making the Xbox One controller interoperable with the consumer version of the Oculus Rift, which will launch in the first quarter of 2016. can play VR games through the Oculus Rift using their Xbox One controller, and they can stream games through Windows 10 to the headset. Oculus also announced last week that it would be launching its own wearable controllers called Oculus Touch to enable more natural gestures and movement through virtual worlds, but Oculus Touch is still in prototype mode and won't be available until after Oculus launches.
Finally, Mojang brand director Lydia Winters took the stage and said the company is building a version of Minecraft especially for Microsoft's HoloLens. In a demo, the Hololens projected a screen onto a wall and Winters, who wasn't wearing a HoloLens, was able to join in via her Surface tablet. The demonstrator then walked to a nearby table and used the HoloLens to reconstruct the 2D Minecraft world on the table in 3D.
The demonstrator was able to zoom in on it with natural gestures Minecraft world and scroll through the visible area within the tabletop space. While everyone on the screen couldn't see what they saw, the HoloLens headset's feed looked sharp.