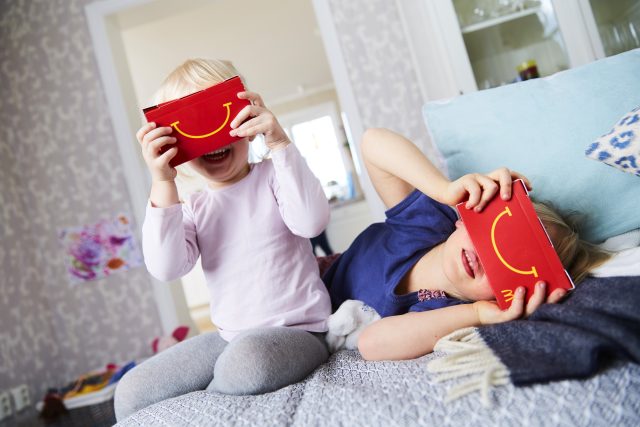 McDonald's in Sweden has unveiled the "evolution of the Happy Meal": the rather daring Happy Goggles. Over the next few weekends, you can pick up a Happy Meal (around £3) at 14 restaurants in Sweden that can be transformed into VR goggles.
Similar to Google Cardboard, McDonald's Happy Goggles require some degree of self-assembly. You'll need to tear along the perforation lines on a relevant Happy Meal box, fold, slide in the included VR lenses and then attach your smartphone. McDonald's even has a video to show you how to achieve that. The promotional campaign even comes with a ski-themed VR game.
Jeff Jackett, director of marketing at McDonald's Sweden, told Adfreak that the company believed VR "could provide a really exciting opportunity to connect families in digital times." He also said this was "the first global test," meaning the Happy Goggles could eventually spread to other continents.
The current plan is to make approximately 3,500 of these Happy Goggles available over the weekends of March 5 and 12. It's an interesting route for McDonald's to take and a perfectly logical one. Virtual reality is practically everywhere these days, with the Oculus taking pre-orders and HTC Vive pre-orders selling out in minutes despite the astronomical price tag.
That said, it seems unlikely that the Happy Goggles will change McDonald's in the eyes of the average parent, not with their kale salads having more calories than a hamburger.