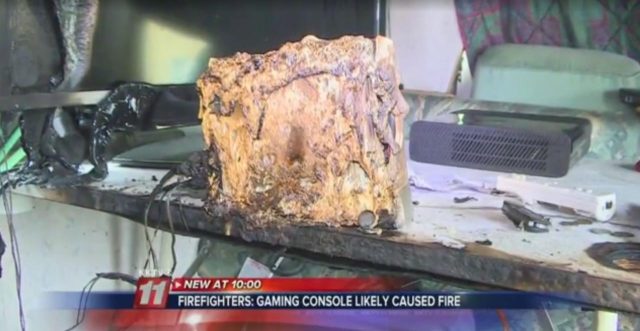 While it's not entirely uncommon to hear about gadgets causing house fires, especially those with lithium-ion batteries, it's not very common for the gadget to be a game console. According to a report by KKTV News 11, a man in Colorado Springs lost part of his RV in a fire apparently started by a Nintendo Wii.
While the exact cause of the fire is still under investigation, firefighters on the scene told News 11 that with the exclusion of smoking and "all other possible sources of ignition," the only other possible cause was the Wii. Trevor Pellegrin, the owner of the RV, claimed that fire investigators were "99 percent sure" that the Wii was the cause.
Pellegrin says the console, which was several years old, was used to watch Netflix and then turned off before leaving the RV. However, it remained connected to the mains. "This is where I live," he said, "these are my possessions. It may not be much, but it's all I had. And then I lost everything, through a game console." According to Pellegrin, his insurance company will soon investigate the crime scene and X-ray the Wii to confirm that the fire started.
Oddly enough, this isn't the only console-related fire that has happened recently. Earlier this month, firefighters in Biggleswade, UK were called to a house fire to rescue trapped residents. It was later revealed that the fire was started by an unspecified game console, which overheated after being covered in clothing and caused a bed to catch fire.
Darren Cook, the officer responsible on the scene, said that "when investigating the fire, we discovered that a game console had been left standing and clothing had been pulled over it. This caused the console to overheat and the clothing caught fire and this then set the bed on fire. We would advise people to ensure that games consoles are not left unattended when switched on and that electrical appliances, even a telephone, are not covered by clothing or anything else."
While there's currently no indication as to which components in the Wii could have started the fire, if the console was supplied with too much voltage from an unreliable third-party power supply, it could have caused capacitors to catch fire. The most common cause of fires in gadgets is lithium-ion batteries, which are known to catch fire when combined with cheap third-party chargers.