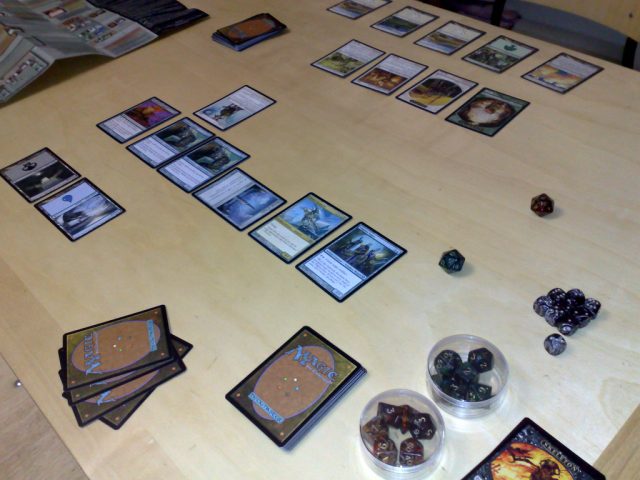 A 23 year old Magic: The Gathering player who stole $8,000 worth of his cards managed to help catch the culprit after working with police on an elaborate sting operation.
According to The Washington PostKemper Pogue of Woodbridge, Virginia said he was quite upset when he realized his car had been broken into and he had lost 300 cards.
"I went into the house, cracked open a beer, had a few sips and promptly started yelling expletives as I waited for the police to arrive," he told the After. "I've been collecting these cards since I was a kid, and over the years they've only increased in value."
Pogue, who did not immediately respond to Ars' request for comment, posted a message to Facebook to notify fellow players of the break-in, then began calling area stores to warn them that the tickets could be on sale.
Craig Cunningham, a Prince William County Police Department detective who worked on the case, told the After that he didn't realize how much Magic cards could be worth it and thought neither did the suspects.
"I don't think the bad guys ever realized how much value they were working with," he said. "We're talking about cards that are expensive and rare. You can't just throw them away at a pawnshop, because that's too dangerous."
Neither Cunningham nor the Fairfax County Police Department responded to Ars' request for comment.
Last Thursday, the two suspects turned up at Curio Cavern, a card shop in nearby Springfield. There, an employee who had already been made aware of the situation noted that the alleged ticket sellers only sold about a third of the stolen tickets. He asked them to come back with the entire collection that evening, which they did around 8 p.m.
Knowing the men would be on their way, the store owner worked with the local police to come up with a ruse: They put a "Be back in 5 minutes" sign on the door, hoping the suspects would hang around to close the deal. When they did, they were identified by the employee and police officers rushed in with dogs barking at the suspects and tasers drawn.
One of the suspects, Solomon Dyonne Reed, was charged with possession of stolen property with intent to sell. The other who came along for the sale was not charged.
Pogue, for his part, still hasn't gotten his cards back: they're being held in a Fairfax Police Department evidence room.
UPDATE 2:35 PM CT: Tom Haid, the owner of Curio Cavern, told Ars, "I think the cards will be returned today or sometime this week. [The police] I have everything, even the backpack that contained the cards."
UPDATE Friday 8:50am CT: Pogue responded late Thursday. He wrote:
"It is still unclear whether or not I received all the stolen cards, but regardless, I want to draw attention to the heart and soul of the [Magic: The Gathering] community and the cooperation of the Fairfax and Prince William County Police Departments. I can't thank Curio Cavern's Tom Haid and those willing to accede enough as their actions are inspiring and heartfelt, not to mention courageous. And damn, I wanted my cards back!"