A view of cars stranded on Interstate 12 near Baton Rouge on Sunday. Boats can be seen on the right side of the image.

Louisiana Civil Air Patrol

A neighborhood in northern Baton Rouge. All images in this gallery were taken by the Louisiana Civil Air Patrol during Sunday flights.

Louisiana Civil Air Patrol

Along the swollen Amite River in southern Livingston Parish.

Louisiana Civil Air Patrol

A sunken apartment complex in eastern Baton Rouge.

Louisiana Civil Air Patrol

Along Honey Cut Bayou, in eastern Baton Rouge, just north of Interstate 12.

Louisiana Civil Air Patrol

Denham Springs soccer field.

Louisiana Civil Air Patrol

Another, broader view of Denham Springs.

Louisiana Civil Air Patrol

Near Hope Villa Road in East Baton Rouge.

Louisiana Civil Air Patrol

Forest Park, in Baton Rouge.

Louisiana Civil Air Patrol

Port Vincent village in Livingston Parish.

Louisiana Civil Air Patrol

Interstate 12, just east of the East Baton Rouge/Livingston Parish line.

Louisiana Civil Air Patrol

A neighborhood north of I-12 and east of O'Neal Lane in eastern Baton Rouge.

Louisiana Civil Air Patrol

A neighborhood near The Mall in Cortana in Baton Rouge.

Louisiana Civil Air Patrol

Near Prairieville.

Louisiana Civil Air Patrol
It's hard to know where to begin with the historic flooding in Louisiana over the past week. There's the sheer amount of water itself — based on precipitation accumulations, an estimated 4 trillion gallons of rain fell in southern Louisiana from mid-Thursday through Thursday. Saturday morning. That's about the same amount of water released by the Mississippi River into the Gulf of Mexico over the course of 80 days.
The rains hit hardest just east of Baton Rouge in Livingston Parish, which sits on Interstate 12 and is home to about 130,000 people. Some government officials estimate that as much as 70 percent of the homes and businesses in this parish — more than 30,000 homes — were flooded. Statewide, officials say as many as 80,000 buildings were flooded. Some 20,000 people had to be rescued from flooded homes and vehicles. Very early damage estimates put the storm at $1 billion to $2 billion. At least seven people have died.
Roads in the area were also hit extremely hard. The state's Department of Transportation and Development estimates that 30 state highways were washed out and thousands of miles of state highways were inundated when water levels rose on Sunday. Some 1,400 bridges will also have to be inspected. From Saturday through Monday, large sections of Interstate 10 and 12, which cross the southern tier of Louisiana, were closed due to flooding. As of Tuesday morning, portions of Interstate 10 remained closed due to flooding.
What was it?
So what caused this mess? It was an almost tropical storm. For much of the past week, National Hurricane Center forecasters watched a low-pressure system in the northeastern corner of the Gulf of Mexico eventually move inland and slowly move westward across Florida, Alabama, Mississippi, and then Louisiana, eventually reaching late last stalled over the southern part of the state for a week. It had a warm core, like the low-pressure center of a tropical storm. But by the time the storm looked most tropical on the satellite, it had moved over land and lacked the surface wind speeds of 39 mph or higher that are typical of a tropical storm. As hurricane specialist Greg Postel of The Weather Channel described the system"It wasn't a tropical cyclone, but it was a tropical cyclone."
Perhaps because it was unnamed, and with the ongoing presidential election and the unfolding drama at the Summer Olympics, the storm in Louisiana didn't get much attention from the wider American public this weekend. But in terms of magnitude, it was easily the worst flooding disaster to hit Louisiana in more than a decade, since Hurricane Katrina ripped through New Orleans storm surge barriers.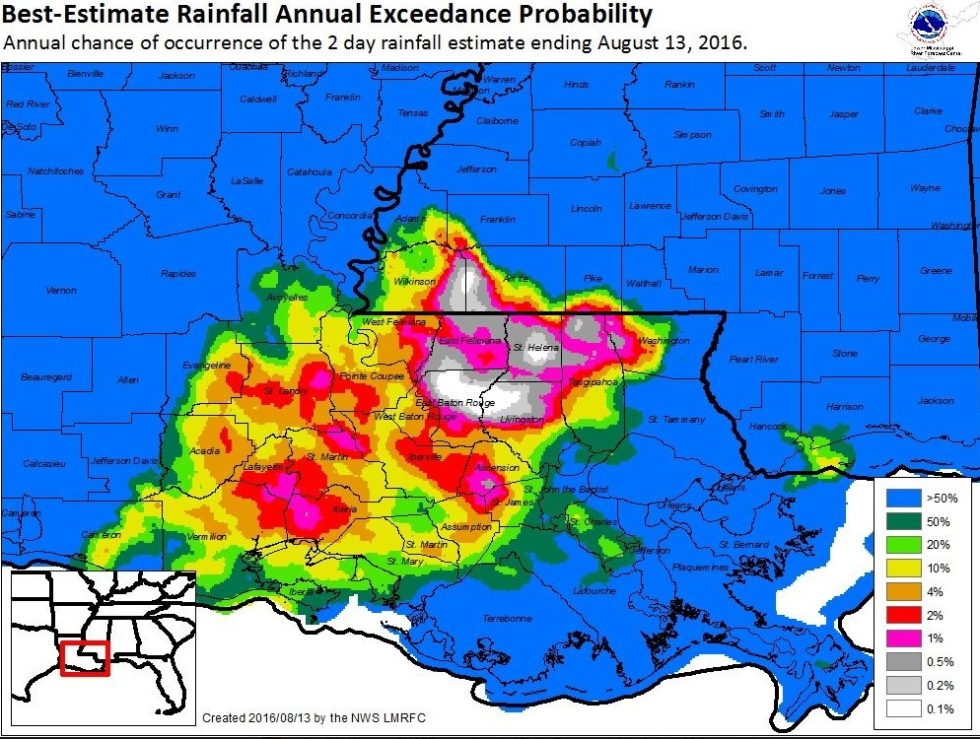 During the three-day span from Thursday through Sunday morning, more than 24 inches of rain fell at several locations in south-central Louisiana, according to the National Weather Service. A handful of rivers, including the Amite and Tickfaw waterways, meandered well above historic high water marks. The measured rainfall totals over Livingston and some of the surrounding parishes in southeastern Louisiana were the equivalent of a 1,000-year flood. "The observed rainfall totals were quite significant and infrequent," the Lower Mississippi River Forecast Center stated.
The role of climate change
Such storms are not unprecedented. A similar event occurred in June 2001, when Tropical Storm Allison (which barely met the criteria for a named storm) developed in the Gulf of Mexico and moved inland over the Houston metro area. Six-day rainfall totals for the storm across most of Harris County were 20 to 40 inches, about half of which fell in one night and caused catastrophic flooding. Damage was estimated at $5 billion in the densely populated urban area — by far the costliest tropical storm ever to hit the United States.
It is a fair question whether climate change plays a role in this type of inland flooding. Areas of Louisiana and Texas, along the Gulf of Mexico and its rich source of tropical moisture, are already prone to severe flooding. However, higher temperatures can help fuel storms because warmer air can hold more water vapor than cooler air, which is why more moisture becomes available over time to fuel storms. This summer's much-above-average temperatures in July and August for the southern United States, therefore, may have exacerbated flooding in Louisiana.
List image by Louisiana Civil Air Patrol