The PVDF-HFP fibers, which contain the flame retardant TPP.

Scientific progress

A diagram of the new separator in action.

Scientific progress

A side view of the fibers clumped together to form the separator membrane. Scale bar = 20 µm.

Scientific progress

The new separator, seen from above.

Scientific progress

This is the separator after it has been exposed to 160 degrees Celsius. The fibers have melted into a bulk polymer and you can see the circular flakes of TPP that have seeped out.

Scientific progress

The separating material exhibits good flexibility and bendability.

Scientific progress
The electrochemical masterminds at Stanford University have created a lithium-ion battery with built-in flame suppression. When the battery reaches a critical temperature (in this case 160 degrees Celsius), an integrated flame retardant is released that extinguishes any flames within 0.4 seconds. Importantly, the addition of an integrated flame retardant does not reduce battery performance.
As you may have gathered from the recent exploding Galaxy Note 7 fracas, one of the few weaknesses of lithium-ion batteries is that they contain a highly flammable electrolyte. If a Li-ion battery thermally dissipates, due to physical damage or perhaps a fault in the charge/discharge circuit, the result is usually a very large fire, sometimes followed by an explosion.
One solution, discovered by researchers at Stanford University, is to create a new separator — the semi-permeable membrane between the battery's positive and negative sides — that contains a flame retardant. Usually the separator is a dull polymer such as polyethylene, the world's most widely used plastic. The new separator consists of fibrous threads of triphenyl phosphate (TPP), a common flame retardant, with a shell of a different polymer (PVDF-HFP). The polymer shell prevents the TPP from seeping into the electrolyte, which would reduce battery performance.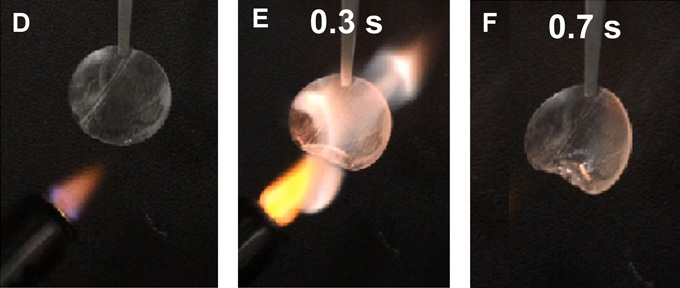 When the separator reaches 160 degrees Celsius, the polymer melts, abruptly releasing the TPP into the electrolyte and extinguishing the combustion. In the above image, the separator is doused with electrolyte, set on fire, and then the TPP is released within 0.4 seconds, extinguishing the flame.
The researchers note that the new separator has been successfully trialled in a button cell, but further testing is needed to see if the integrated flame retardant is still effective when larger cells are crushed, punctured or electrically abused. Otherwise, the data looks good: the new separator is flexible, strong, and doesn't seem to affect battery performance in the long run.
In somewhat related news this morning, Samsung said it will release the results of its internal investigation into the exploding Galaxy Note 7 next Monday, January 23.
Scientific progress2017. DOI: 10.1126/sciadv.1601978
Picture of a frame by Crushader