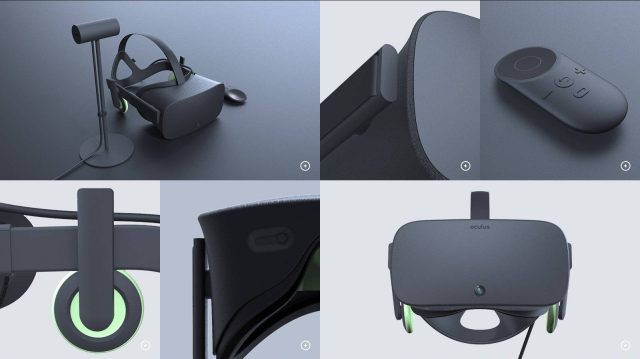 Some enterprising diggers on reddit have found a placeholder site posted by Oculus showing rendered images of the Oculus Rift that could point to the headset's final consumer design, offering the first glimpse of Oculus' ideas for a true virtual reality game. reality controller.
No sooner had Oculus launched a countdown site for its Thursday press conference than Reddit user _explogeek discovered a page with tons of hardware renderings buried under the site's CSS (screengrabs archived here and here). Oculus co-founder Palmer Luckey quickly jumped into the Reddit thread and confirmed that the leaked images were actually posted briefly on Oculus' own website (before being taken down), but warned readers that those photos were far from final.
"This is an old placeholder concept image that we accidentally leaked," Luckey wrote. "Everything in it is old, certainly nowhere near final (as evidenced by the GPU specs and the game named 'war'). Enjoy watching it right now, but don't expect everything to continue to the stream on the 11th."
We've taken Luckey's advice and have indeed enjoyed checking it out in the meantime. We especially enjoyed viewing a representation of what is referred to in the images as the "Simple Input Device" (top right of the section shown above). That's a rounded oval controller with a smooth touchpad surface above three raised buttons: a minus sign, a plus sign and what appears to be a back button. Oculus hasn't discussed its own plans for VR control at all in the years since Kickstarter, so this early glimpse is interesting, even if it's not definitive. The controller also features the new, oval Oculus logo first unveiled today, suggesting the display can't be everything That old.
The leaked images also include a particularly interesting wrinkle on the headset itself: what appears to be a camera lens protruding from the front of the device, right in front of the nose (bottom right, above). That would suggest some kind of "inside-out" tracking, of the kind used by SteamVR headsets like the HTC Vive, in addition to the "outside-in" tracking the Rift enjoys via an external camera (which is also used in its own right). pedestal shown in the leaked renders).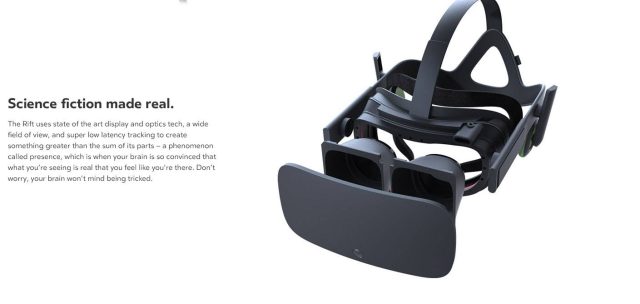 An exploded look at the inside of the Rift from the leak (above) also shows a separate screen for each eye, as opposed to the single split LCD panel in existing Rift development kits. Each of these screens and lenses can be independently adjusted from side to side, judging by what appears to be a slider that appears at the bottom of the device in the images (bottom center in the header image).
While we try very hard not to read too much into what has been called an "old … placeholder concept image", the leak offers a helpful glimpse behind the curtain of Oculus's often largely obscure planning and design process. least. We'll probably know how accurate these leaked images are in a few days, when Oculus presents its pre-E3 press conference, and we'll be live blogging it as it happens.