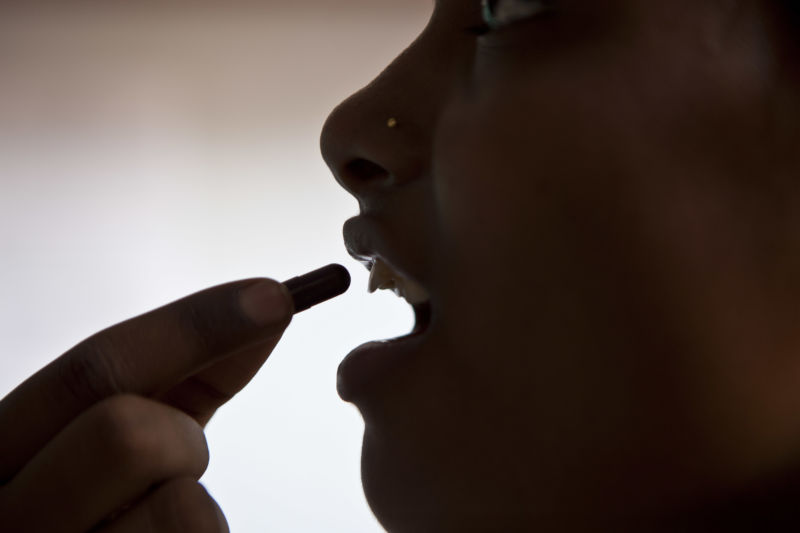 In August 2016, doctors in Washoe County, Nevada discovered that one of their patients was unable to shake off a bad bacterial infection. The infection probably had occurred years earlier when the local woman made a lengthy visit to India. There she had undergone multiple hospitalizations and surgeries for a leg injury and developed a bone infection. By the time she got back to Nevada, the infection had spread.
The American doctors isolated her in a hospital room and threw out all the antibiotics they could against the infection. It withstood them all – 26 in all, tests confirmed. In early September, the woman went into septic shock and died.
Though rare, the case highlights two key points: that resistant bacteria don't stop at borders and that India is a particular concern in the fight against antibiotic-resistant infections. While cases of drug-resistant bacterial infections are increasing worldwide, recent data shows that India has one of the highest rates of such infections in the world. The country is also the largest consumer of antibiotics per capita.
Now, new data provides a clearer picture of why the country appears to be a breeding ground for drug-resistant infections that threaten to spread inside and outside the country.
Drug companies — some internationally and even US-based — are selling millions of dubious and unapproved cocktails of antibiotics in India, all of which could fuel the development of drug-resistant bacteria and dangerous patients. The finding, published Monday in the British Journal of Clinical Pharmacology by UK health experts, suggests the country poses a risk to global health and undermines efforts to manage drug resistance.
The study's authors, led by Patricia McGettigan of Queen Mary University of London, recommend strong regulatory action in India to ban these unapproved drug cocktails. They also call for the multinational pharmaceutical companies that produce some of the antibiotic blends, such as Abbott, GlaxoSmithKline, Astra Zeneca, Pfizer and Merck/MSD, to be responsible for their products.
Drug companies "should be required to justify the sale of products in India that do not have the approval of their own national regulators and, in several cases, not even the approval of the Indian regulator," they conclude.
Dodgy doses
For the study, Prof. McGettigan and her colleagues extracted antibiotic sales figures from a commercial database of Indian drug distribution called PharmaTrac. They looked at sales between October 2007 and November 2012. They then compared the stock of drugs sold in India with the list of drugs approved by India's Central Drugs Standard Control Organization (CDSCO) and those approved by the U.S. Food and Drug Administration (FDA) and the European Medical Agency (EMA).
The researchers found that drug companies sold 86 regular, so-called "single-use antibiotics" and 118 fixed-dose antibiotics over the five-year period. The FDC drugs are formulations composed of two or more drugs in fixed proportions in a single dose. They may contain two or more antibiotics or antibiotics and another type of drug, such as an antiprotozoal drug. Such combo formulations are rare in the US and UK; pharmaceutical companies sold just five in the US and UK during the same period.
Many of the 118 sold in India were "poorly considered," the authors note. Some combined antibiotics that had to be taken at different intervals to work. For example, one FDC linked an antibiotic that must be taken once a day with another that must be taken every eight hours to work effectively. Some combinations risked aggravated side effects, while others combined drugs that would not be given to treat the same disease.
Of the 118 types of FDCs, 75 (64 percent) did not have approval from the CDSCO, FDA, or EMA. In contrast, almost all single-use antibiotics were approved. Yet, in total, FDCs accounted for 34 percent of antibiotics sold in India in 2012 — about 872 million doses that year. And 42 percent of FDCs sold contained antibiotics that the World Health Organization says are "critical" drugs, which should be used in moderation.
Twelve multinational companies were responsible for making 53 of the 118 types of FDCs. These include Abbott, Astra Zeneca, Baxter, Bayer, Eli Lilly, GlaxoSmithKline (GSK), Merck/MSD, Novartis, Pfizer, Sanofi-Aventis and Wyeth. Of the 53 FDCs, only four were approved by the FDA and/or the EMA, and 20 were not even approved by the Indian CDSCO. US-based Abbott, previously criticized for selling antibiotics in India, sold 18 of those 20 unapproved combination drugs. In 2014, Abbott made $367 million in FDC profits in India, Reuters reported in 2015. At the time, a company spokesperson said manufacturing and marketing in India is "compliant with local regulations."
The authors noted that the Indian government has made efforts to ban the unapproved drugs. But efforts have stalled in the courts and drug regulation is generally weak.
"The use of unapproved, researched antibiotic FDC formulations is likely to contribute to the rise in antimicrobial resistance in India," the authors conclude. Until definitive action is taken to ban most systemic antibiotics FDCs from production and sale, [antimicrobial resistance] initiatives in India are likely to be undermined and the global action plan hampered."
British Journal of Clinical Pharmacology2018. DOI: 10.1111/bcp.13503 (About DOIs).
Go to discussion…