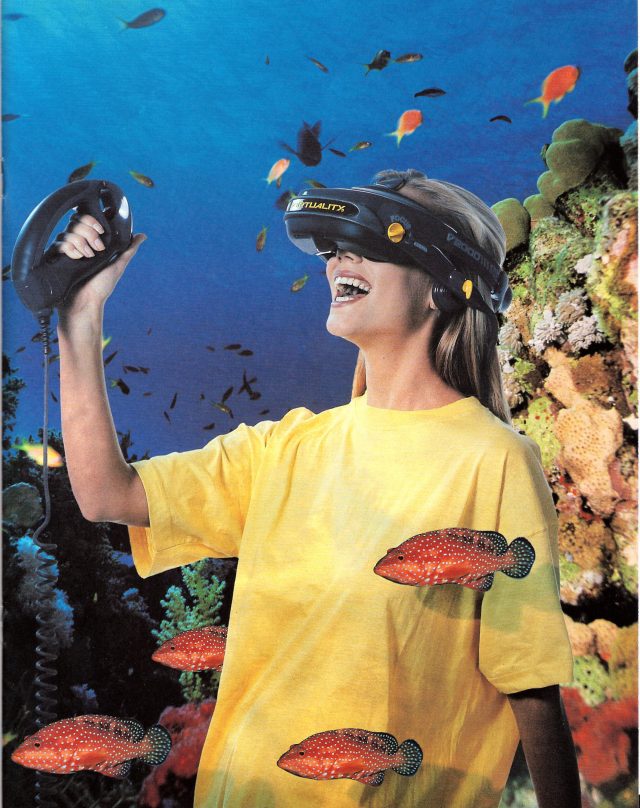 In 2014, we were tickled and frightened in equal measure by the laundry list of legal health warnings that accompanied Samsung's first Gear VR consumer devices. The HTC Vive Pre comes with a health and safety warnings booklet that is largely similar, but HTC takes it a bit further by warning of some surprisingly specific potential dangers of virtual reality.
The booklet contains standard warnings you would expect before using any device that requires physical activity: users should consult a physician if they have a heart condition and/or are pregnant or elderly. But the Vive warning booklet urges users with "psychiatric conditions (such as anxiety disorders or post-traumatic stress disorder)" to be careful with the device:
"Content viewed with the product can appear intense, immersive and very lifelike and can cause your brain and body to respond accordingly. Certain types of content (e.g. violent, scary, emotional or adrenaline-based content) can cause increased heart rate , spikes in blood pressure, panic attacks, anxiety, PTSD, fainting and other side effects. If you have a history of negative physical or psychological reactions to certain real life circumstances, avoid using the product to view similar content. (emphasis added)
That's not too surprising, given that doctors have been using virtual reality as an immersive PTSD treatment for years. Dr. Albert "Skip" Rizzo told Ars that even rudimentary 90s VR was really enough for traumatized users to feel immersed in their memories:
"When they went through and they came out, I said, 'Bill, what did you see there?'" Rizzo recalled. Vietcong come from the jungle and there was a water buffalo.' Well, none of that was in the simulation… they filled in the gaps with their own memories. You can offer just enough for people to react to it like it's real."
In the case of the Vive, the simulation can be so real that HTC fears you'll forget that virtual objects can't actually support your weight. "It is important to remember that simulated objects, such as furniture, that may be encountered while using the product do not exist in the real world, and injuries can result from interacting with those simulated objects as if they were real, for example by trying to sit in a virtual chair," the booklet warns.
Watch out!
Much of the Vive warning booklet deals with all the potential dangers of walking around a room while being "blind to the world around you. HTC isn't even too keen on those "blind" users trying the Vive for themselves:
"It is recommended that the product be used only under the supervision of another person who is ready to warn of hazards that may occur while the product is being used. Examples of hazards that may occur include entanglement of a cable in a manner that creates a tripping hazard, pets entering the area where the product is being used, and the user walking too close to a wall or other hazard."
While the Vive has a built-in "chaperone" system that erects a virtual wall as you approach the boundaries of your off-limits "safe" zone, the warning booklet recommends "not relying on the product's chaperone system for protection." And while the play area should of course be free of furniture and obstacles, the headset should also not be used "near stairs, large windows, heat sources or outdoors".
Also, don't plan on running from one corner of the room to the other while dodging virtual sniper fire on the Vive. "Move your feet slowly and carefully to avoid tripping, including over the cable," the booklet warns. "Make sure your footing is secure. Tripping over the cable or coming into contact with obstacles can cause injury or damage."
Like Samsung and the Gear VR, HTC warns that "the product is not designed for use by children. Do not leave the product within the reach of young children and do not allow them to use or play with it. They could injure themselves or others or may accidentally damage the product." While HTC doesn't set a specific age limit for the Vive, Samsung says kids under 13 shouldn't use the headset.
Even with older children "allowed to use the product," HTC urges parents to "monitor them closely for any negative effects during and after their use of the product. Do not allow older children to use the product if there are negative effects are observed. Adults should also ensure that older children avoid prolonged use of the product."
HTC's list of warnings doesn't put as much emphasis on potential nausea as Samsung's. Still, the Vive booklet warns that "Prolonged, uninterrupted use of the product should be avoided. It may impair hand-eye coordination, balance, and/or cause other adverse effects." Prolonged use can also lead to "fatigue or pain in your muscles, joints, or other body parts." More generally, you should not use the Vive "if you are ill, tired, under the influence of intoxicants/drugs, or if you are generally unwell, as this may make your condition worse."
Oh, and about those hand-tracking controllers: HTC says to handle them with care to avoid repetitive strain injuries. "Operate the product in a comfortable position. Do not grip the product too tightly. Press the buttons lightly." And, like the Nintendo Wii controllers before it, HTC reminds you to always use the wrist strap and be wary of swinging the controller around other people.
Many of the overzealous warnings in the HTC Vive booklet are probably just the legal department's way of protecting itself should the worst happen. But the fact that HTC felt it necessary to issue these specific warnings has put us in a new light on the potential dangers of room-scale virtual reality. We'll let you know if we stumble across pets or try to sit on virtual furniture after installing and playing with the Vive Pre over the next few days.