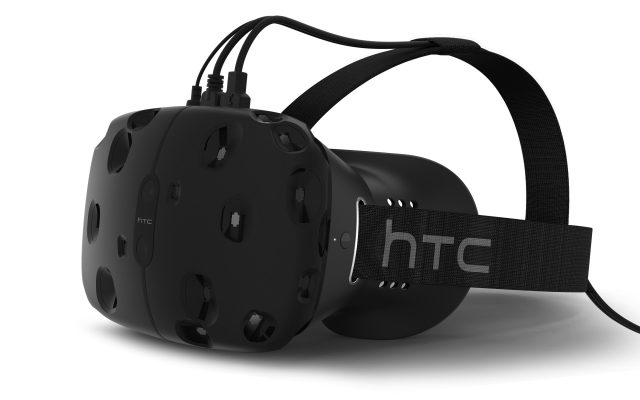 HTC CEO Cher Wang has revealed that the HTC Vive VR head-mounted display will be available for pre-order starting February 29. The Telegraph, Wang said the company is emphasizing smartphone handsets and increasing its focus on virtual reality and that the release of the Vive is a big step in that direction.
This makes the Vive the second "AAA" head-mounted display to hit the market, as a significant number of people who pre-ordered the Oculus Rift last week should receive their devices by the end of March. HTC hasn't yet announced final specs for the shipping version of the Vive, but we expect them to be similar to the shipping version of the Rift, including dual OLED displays at or around a combined resolution of 2160×1200 with a 90Hz refresh rate. HTC is also expected to put more emphasis on "room-scale" virtual reality, encouraging wearers to get out of their seats and interact with an environment. Unlike the Rift, the Vive will include a few positional tracking "base stations" and virtual reality hand controllers in the box (or so HTC's current info says).
But HTC remains mum on the details. The final price for the Vive has yet to be announced, although HTC has long maintained that the Vive will likely be more expensive than the Oculus Rift. With the Rift coming in at $599 – higher than many potential customers expected – it's a virtual certainty that the Vive will cost just as much or more, especially considering it's expected to include the extra camera and VR controllers . The actual shipment date of the device is also unknown, according to The Telegraphis the current April release of the Vive still solid.
The obvious question for potential VR early adopters right now is which head-mounted display to get – and since we haven't tried the final hardware yet, we don't have a solid answer. Based on currently known specs, both devices appear to be in the same league, with the main difference currently being how mainstream users can find and run VR applications: Oculus leans on "Oculus Home", a Steam-like platform, while the Vive connects to SteamVR, a real Steam platform. (It's actually more complicated than that: current versions of the Oculus Rift development kit also work fine with some SteamVR games, including elite: dangerous, although Rift performance anecdotally isn't as good in SteamVR as it is with the Oculus Runtime.)
Anyway, once we get our hands on the final hardware for both devices, we'll do a substantial comparison to decide which one we like better. Stay tuned.