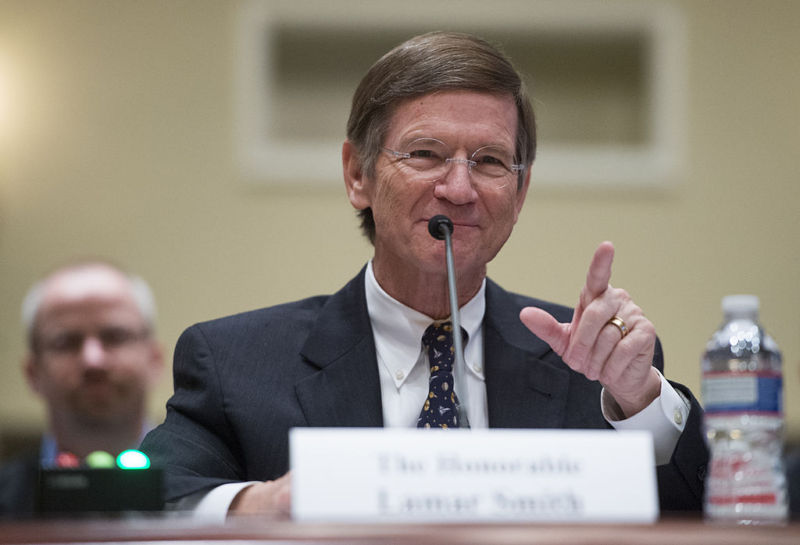 In his position as chairman of the House Committee on Science, Space and Technology, Congressman Lamar Smith (R-TX) has seen fit to intervene widely in the legal troubles of oil giant Exxon Mobil. Several attorneys general — most notably New York AG Eric Schneiderman — are seeking data from Exxon following news stories about Exxon's own climate research in the 1970s and 1980s. After its own research showed that climate change was clearly linked to burning fossil fuels, Exxon stopped that research and began publicly promoting doubt about global warming.
The investigations examine whether Exxon effectively misled its investors about the company's risks, much as tobacco companies did in the 1990s.
It was discovered last week that the US Securities and Exchange Commission (SEC) is following the Exxon investigation and requesting data from the company itself. The Wall Street Journal reported that the SEC was interested in how Exxon values ​​its assets as climate policies strengthen, as well as "Exxon's longstanding practice of not writing the value of its oil and gas reserves when prices fall."
Previously, Smith had issued subpoenas to attorneys general and a number of environmental advocacy groups over the securities fraud investigations, which he says are an attempt to suppress free speech and academic research. On Thursday, Smith sent a new letter, this one to the SEC.
In the letter, Smith writes:
The Committee's jurisdiction over energy and environmental research includes an obligation to ensure that such research advances the American scientific enterprise to the greatest extent possible, free from threats of harassment or prosecution. The Committee is concerned that by exercising its enforcement powers against companies like Exxon for collecting and relying on what the SEC may view as inadequate climate data used to value its assets, the SEC is introducing a prescriptive orthodoxy in field of climate change that can further cool climate change research through the public and private scientific R&D sector.
The letter demands all relevant documents and communications involving SEC personnel, the Justice Department, the White House, the attorneys general and a number of environmental groups.
Concerns about hair-raising climate research are quite unexpected, coming from someone who subpoenaed federal climate scientists whose research he didn't like. Previously, Congressman Smith even preferred to believe that it was the planet that was chilling.
With his (now routine) lack of any sense of irony, Rep. Smith also: "While the committee is not interested in the merits of the New York AG's nearly year-long investigation, the AG's efforts, variously characterized as a 'witch hunt' and 'foolish message', are an 'abuse of powers', 'pathetic', a 'schtick' and a 'tough fight' have not revealed any indication of wrongdoing by Exxon."
After the subpoena of Rep. Smith for emails from NOAA climate scientists was blocked by the agency, the conservative group Judicial Watch filed a Freedom of Information Act request for essentially the same documents. NOAA handed over records four months ago, but Judicial Watch has not made any of them public until now. Meanwhile, the apparent legal veil hanging over one of Smith's top donors appears to have distracted him from pursuing NOAA further.