DRIVEN…

Wizards of the Coast

…TOo despair!!

Wizards of the Coast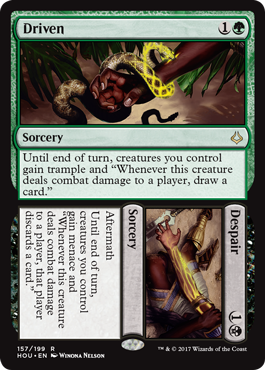 Magic's new expansion Hour of Devastation is almost here, and we've got a new split map to show you ahead of the set's release. Look at Driven to despair.
like a Aftermath Map, driven and Despair are played as separate spells – once from your hand and then from your graveyard – but they can be chained together on the same turn to take advantage of their innate synergy. Since both are sorcery – only available on your own turn – they can be used to build a crushing attack that will make you run ahead of both cards and damage.
It's certainly a swinging card, but be careful when evaluating cards like this: it's powerful in certain situations, but not as strong when you're behind and find it hard to attack. Overall, however, we look forward to the return of Aftermath because it adds more options to the game, as we discussed in our amonket review.
General, Hour of Devastation it looks like it's going to be an exciting expansion with the terrible (and/or awe-inspiring) return of the elder dragon Nicol Bolas. Wizards of the Coast also recently announced some major changes in the future of Magic: the meetingwhich we will fully cover Hour of Devastation review.
Hour of Devastation will be released worldwide on July 14, with pre-release events taking place the weekend before (July 8-9) in local game stores. Somewhat unusually, the set will be playable in Magic Online from July 10, a few days before the physical release date.
If you haven't played Magic: the meeting rather, or you are an expired player from your teens, and you are interested in playing the game, our past coverage is a good place to start.
List image by Wizards of the Coast