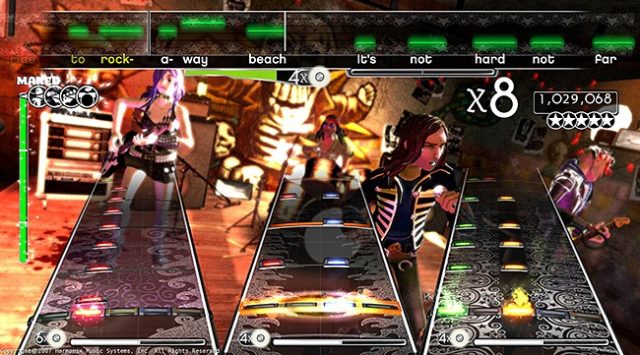 It seems like only yesterday that we posted weekly updates on the new playable songs available for download in the rock band store. In reality, it's been about 21 months since Harmonix stopped its regular DLC updates in April 2013 and more than four years since the last retail update rock band game (although the brand lives on in titles like the downloadable Rock Band Blitz).
Everything old is new again this week, however, with the surprise announcement that three new rock band tracks can be downloaded from Tuesday. The new songs you can download for $2 each are:
Avenged Sevenfold – "Shepherd of Fire"
Arctic Monkeys – "RU Mine?"
Foo Fighters – "Something from Nothing"
Why add new numbers to the 3,500 numbers rock band library so suddenly, after such a long break? "We had a great opportunity to add new content to the already massive rock band library with a song from Arctic Monkeys, a band that has never been in a rock band title for! — as well as new music from fan favorites Avenged Sevenfold and Foo Fighters," Harmonix spokesperson Nick Chester told Ars in an email. "We couldn't pass it up. We also wanted to see if we could still do it. Turns out we can. It's a bit like cycling."
If this is a sign that weekly content drops are in store rock band one more time ahead, Harmonix is ​​holding mama for now. "Let's not get ahead of ourselves, one thing at a time!" Chester told us. But there are indications that the market for such DLC is not quite dead yet. "It's…important to note that we see hundreds of thousands of unique and active rock band users per month still playing the game," Chester noted. "This is nearly two years since we stopped releasing new content and even longer since we released a retail game."
We may have turned a corner on the public's perception of rhythm games. What had become a horribly overexposed genre in the late s with a plethora of shovelware titles (rock revolutioneveryone? Band hero, maybe?) has now lain fallow long enough for a potential, nostalgic comeback. Note that children who were in the middle of primary school then the first Guitar Hero who surfaced in 2005 are now old enough to attend college, and they're probably perfectly ready for another retro-infused bite of the rhythm game apple.
It's not hard to imagine that this latest DLC offering could be Harmonix's way of testing the state of the rhythm gaming waters – Harmonix CEO Alex Rigopolous said at PAX East in April that there are plans to bring both back rock band And Dance Central "in the upcoming console cycle." There have also been some light-hearted rumors in recent months that the Guitar Hero brand is also preparing for a comeback. Where did I put that old drum controller…?