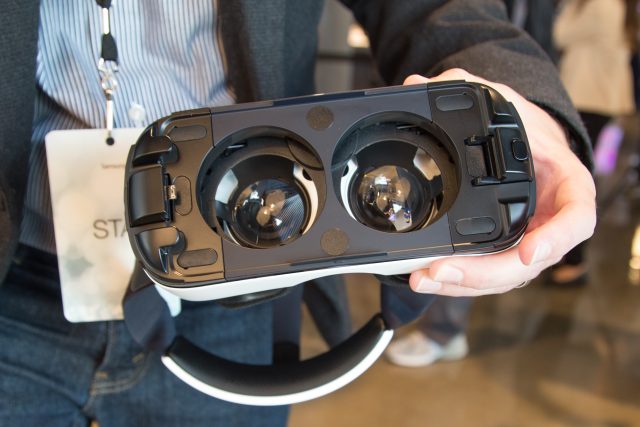 Today's announcement of the Oculus-powered Samsung Gear VR was light on details about all of the content being designed for the device, aside from some built-in tools for watching videos, viewing images, and navigating a store. However, we're already starting to get our first hints about third-party development of the device, with popular rhythm game developer Harmonix surreptitiously announcing a mysterious project for the device.
"The cat is out of the bag: Harmonix is ​​developing software for Samsung's Gear VR," Harmonix publicist Nick Chester tweeted shortly after this morning's announcement. The statement was echoed by the official Harmonix Twitter account and by developer Dawn Rivers who tweeted to say she "can't wait for people to see the crazy project I've been involved with at Harmonix for Samsung's Gear VR!"
Harmonix offers no information on the type of game it's working on for Samsung's entry into the virtual reality space so far, promising only "more information soon!" While the studio is known for console rhythm games like rock band And Dance CentralHarmonix released its first mobile title, the musical platform game Record runfor Android and iOS earlier this year.
Update: Imangi Studios has announced a new version of popular mobile game Run Templesimply titled Temple Run VR, is coming to the Gear VR (screenshot below). The news follows the recent announcement of the billionth download of a Run Temple game.
Some other games in development for the device include:
Action puzzle game Darknet from indie developer E McNeill
Romans 360, a military defense title from the Side-Kick Games in Tel Aviv.
Exploratory horror title Dreadhalls from White Door Games.
Smash Hit loota dungeon crawler from Triangular Pixels.
Two titles from nDreams: first-person space shooter Gunner and vacation simulation Perfect Beach.