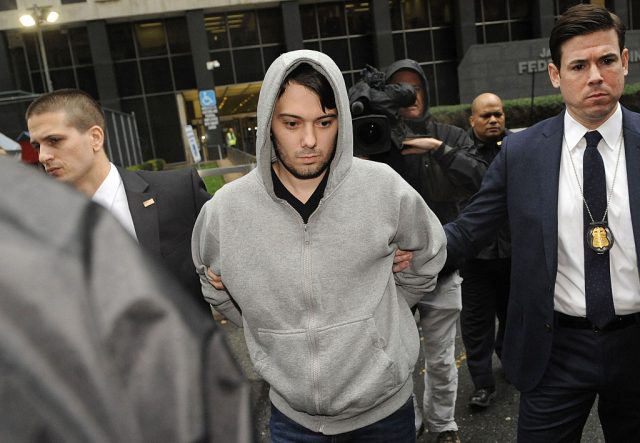 In a court hearing on Tuesday, a federal judge delayed setting a trial date for Martin Shkreli, the disgraced founder and ex-CEO of Turing Pharmaceuticals, who was indicted last December on seven counts of securities fraud.
Shkreli and his lawyer asked for a stay after learning recently that prosecutors are considering bringing more charges against the embattled former executive and his ex-lawyer, Evan Greebel, who had already been charged with wire fraud conspiracy. The new possible charges — along with the first — relate to allegations that the couple carried out a Ponzi-esque scheme, funneling millions of dollars from Retrophin, another of Shkreli's pharmaceutical companies, to cover losses from two hedge funds that Shkreli controlled. .
In Brooklyn federal court, prosecutors told the judge on Tuesday they would decide whether to file new charges within the month.
Shkreli and his current attorney, Benjamin Brafman, told the judge they would like to wait and see what prosecutors decide and have time to prepare a defense against new charges before a trial date is set. In response, District Judge Kiyo Matsumoto said she understood and didn't want to put pressure on Shkreli if he wasn't ready.
Outside the courthouse, Brafman told reporters, "I think today was a good day for Martin Shkreli."
On Monday, Brafman filed a letter with the court stating that Shkreli may use a "reliance of counsel defense," meaning Shkreli can claim ignorance and blame Greebel for alleged instances of fraud.
Both Shkreli and Greebel have pleaded 'not guilty' to the charges. Shkreli is due to appear in court on June 6.
Although allegations of fraud have kept Shkreli in the headlines, he initially rose to prominence as the CEO of Turing, which dramatically increased the price of an antiparasitic drug called Daraprim by more than 5,000 percent. While Shkreli left Turing shortly after being accused of fraud, the company is still reeling from the reaction to the price hike. On Monday, Impax Pharmaceuticals, which sold Shkreli the rights to Daraprim, sued Turing for more than $20 million. Impax alleges that Turing broke their sales contract by not refunding Medicaid rebates and not providing pricing information.