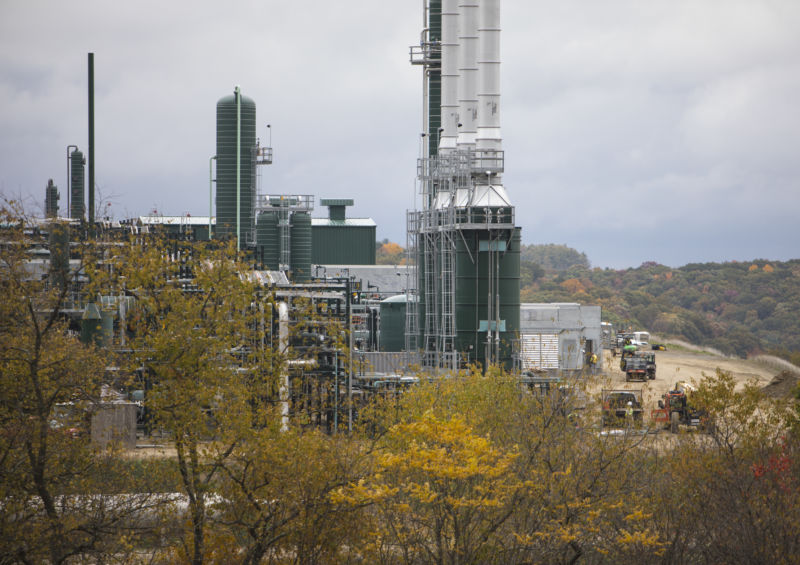 Despite plummeting wholesale electricity prices in some parts of the US and virtually flat electricity demand in recent years, natural gas and renewable capacity continues to be built.
In 2016, the Energy Information Agency (EIA) notes, natural gas electricity generation in the US increased 3.4 percent; non-hydro renewables such as wind, solar, biomass and geothermal increased 15.7 percent; and conventional hydropower grew 7.5 percent. Electricity generation from coal, on the other hand, fell by 8.4 percent in 2016.
Those numbers reflect only the share of electricity generated by a particular type of fuel, not necessarily how many new power plants came online in 2016. But natural gas expansion still seems to be gaining ground in certain parts of the country. According to The Wall Street Journal, at least two power plant companies – Invenergy and Calpine – are committed to building natural gas capacity in Pennsylvania and Ohio. Between those two states, Invenergy and Calpine will increase natural gas capacity by 8.6 gigawatts between 2018 and 2020.
What makes that number remarkable is that wholesale electricity prices have been extraordinarily low this year. But Pennsylvania and Ohio have an advantage: They sit on top of the Marcellus Shale Formation, a huge reserve of natural gas.
While power plant builders may see their revenues eaten away by lower wholesale electricity prices, they make up the difference with cheap fuel, especially when they can locate plants close to Marcellus shale and save on transportation costs. According to EIA data, Marcellus shale production reached an all-time high in October 2017; Pennsylvania specifically supplies 19 percent of U.S. natural gas. The WSJ notes that the price of natural gas "has fallen from peaks of more than $13 per million British thermal units in 2008 to less than $3 per million BTUs today."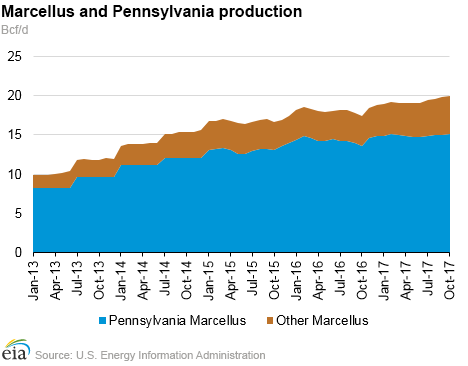 It also helped that the construction costs of building natural gas plants fell by 28 percent between 2013 and 2015.
Despite all the additional gas being produced from the Marcellus Formation, plans for new pipelines to move natural gas from the Northeast to other markets were mired in a regulatory quagmire for much of 2017. The Federal Energy Regulatory Commission (FERC) lost two of its members, and therefore a quorum, shortly after the Trump administration took office. Replacements were not confirmed by the US Senate until August, making it impossible to approve new natural gas pipelines.
The abundance of gas in the northeast has driven down electricity prices in that densely populated area. The WSJ says PJM, the wholesale grid operator in Pennsylvania, Ohio and surrounding areas, saw some of the lowest electricity prices last year since they were tracked in 1999: $29.23 per megawatt-hour.
Much of the new generation being built in the Northeast is replacing coal, much to the chagrin of elected officials who have pledged to save mining and generation. But those low electricity prices make it extremely difficult for coal to compete barring government support. As a result, "Nearly 9.3 gigawatts of coal-fired electrical generation have been retired from the PJM grid in the past three years, while 8.7 gigawatts of gas-fired capacity have been added in that same time frame," the statement said. WSJ writes.