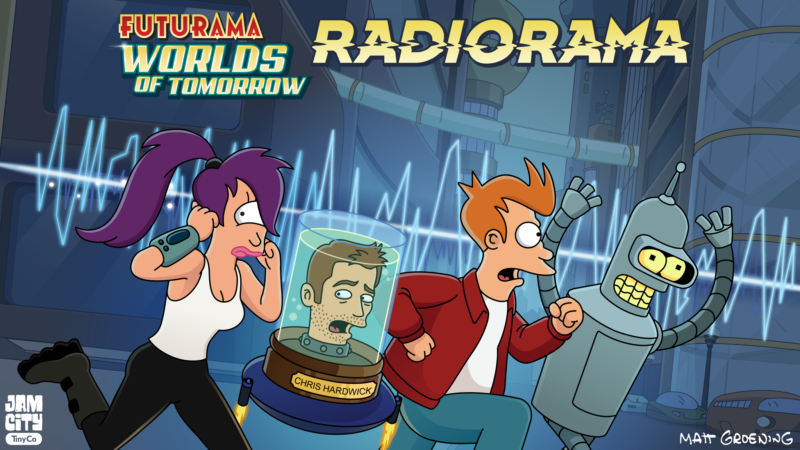 While we wait for Matt Groening's next full-fledged animated series and hope it covers all eras of futurama or The Simpsons you adore, the nerds of Groening and Co. have given their fans a bite: a brand new one futurama episode.
But there is a catch. It's not animated.
Head over to the Nerdist, either via YouTube (above) or your favorite podcast feed aggregator, to listen to "Radiorama," the first (and possibly last) audio-only radio drama episode of the series. The episode is introduced by comedian and nerdist creator Chris Hardwick, who explains that he's whining futurama co-creators Matt Groening and David X. Cohen on a possible collaboration for about two years.
"To be futuramathe show that never dies, but is so sick it lost its video," explains a narrator in an intro trying to recreate the opening of the animated series with ads near Planet Express headquarters. The 44-minute episode, which was written by original staff members of the series and contains the complete futurama voice acting crew, sees Express staff visit the series' silly show-in-a-show All my circuits. Handy enough, the delivery of All my circuits is also the first podcast-only episode of that series.
Gags with sound effects, jokes about things Leela can't see because of her single eye, and other audio-specific craziness round out this finely produced radio drama. The futurama-y gimmick of this episode: A technological catastrophe has untied audio clips from a point in the early 21st century when the number of podcasts had reached supersaturation. Hardwick, as the villain of the episode, estimates the number of unheard of podcasts he's unleashed at about 58 billion.
Be warned: to enjoy this satisfying episode, you'll have to slog through a few ads for the new, free-to-play futurama smartphone game, Worlds of tomorrow. (The game seems to have some RPG elements and is original) futurama jokes from the staff but I refuse to install it after the money consuming horror that was Simpsons: Exhausted.)