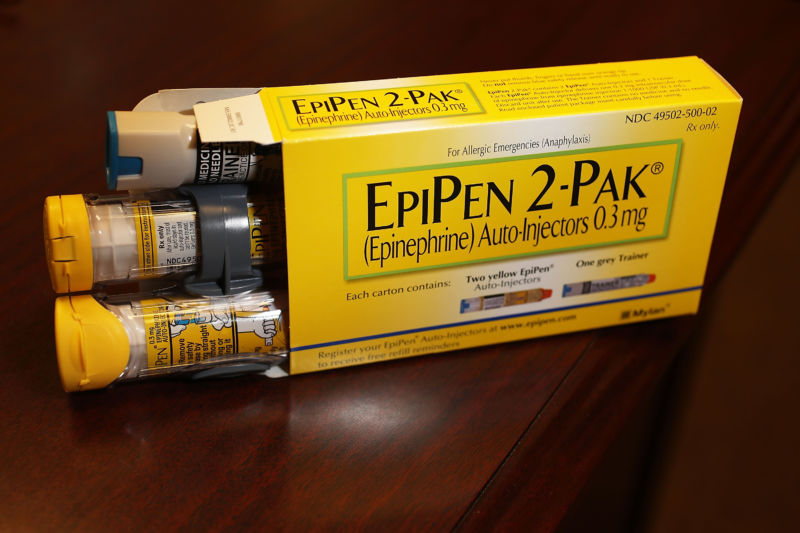 The EpiPen device maker failed to address known malfunctions in its epinephrine autoinjectors, even as hundreds of customer complaints came in and failures were linked to deaths, according to the Food and Drug Administration.
The damning allegations came to light today when the FDA posted a warning letter it sent on Sept. 5 to the manufacturer, Meridian Medical Technologies, Inc. The company (which is owned by Pfizer) produces EpiPens for Mylan, which owns the devices and is notorious for drastically increasing prices by more than 400 percent in recent years.
The auto-injectors are designed to be used during life-threatening allergic reactions to deliver a quick dose of epinephrine. If they don't fire, people who experience a reaction could die or become seriously ill. According to the FDA, that's exactly what happened for hundreds of customers.
In the letter, the agency wrote:
In fact, your own records show that you have received hundreds of complaints that your EpiPen products did not work during life-threatening emergencies, including some situations where patients later died.
The agency continues to blame Meridian Medical for not investigating problems with the devices, recalling bad batches and following up on problems found. For example, in April 2016, a customer filed a complaint that an EpiPen was not working. When Meridian took the device apart, it found a deformed component that led to the problem — the exact same defect it found in February when another device failed.
The FDA wrote:
Nevertheless, on June 3, 2016, you concluded that the defect is infrequent, even though you had not examined all your spare samples to determine the extent of the defect within the same batch of finished products, nor did you extend your investigation to other many… You closed your investigation and determined that "no action would be taken in the marketplace".
The agency further noted that during an inspection earlier this year, Meridian employees said they failed to disassemble the "vast majority" of faulty devices that customers sent back to them. Meridian received 171 such "complaint samples" between 2014 and 2017. But employees said they were only allowed to take apart devices if it was "approved by management". Still, Meridian noted that disassembly was the only way to determine why a device failed.
Days after the inspection, Mylan recalled tens of thousands of injectors.
In a statement today, Pfizer responded to the FDA's letter, saying:
Patient safety is a top priority at Pfizer. We stand behind the quality, safety and efficacy of the products we manufacture. We will continue to work with the FDA to resolve the issues raised in the letter.
A spokesperson for Mylan told CNBC, "Pfizer continues to work with the FDA to resolve the points raised in the letter regarding Pfizer's production of EpiPen Auto-Injector, and Mylan will make every effort to facilitate this process. to support." The company did not expect deliveries of EpiPen because of the letter.