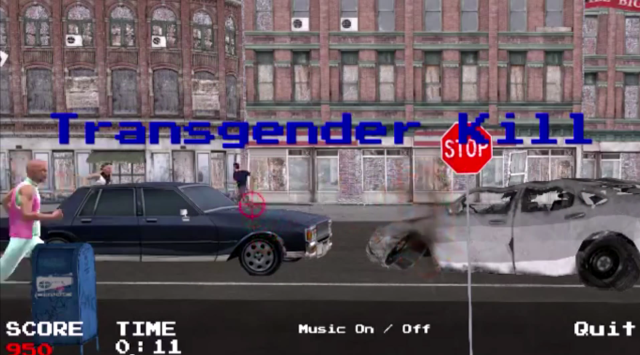 Steam's downloadable games store launched its "Greenlight" initiative in 2012 as a way to open its sales doors to smaller game developers. However, since the store launched with a plethora of inauthentic and joking entries, the folks at Valve added a $100 fee to "cut the noise."
Whether or not that fee was supported by an active filtering or monitoring service, Greenlight still failed to stop a game that clearly violated its terms of service. Kill the fagota light gun-style game about shooting gays, created by a California developer, skateboarder, and Christian shoe promoter named Randall Herman, launched for public consumption Monday morning before being pulled from the Greenlight service hours later.
Before it was removed from Greenlight, game critic Jim Sterling downloaded and tested the game, which launched through Herman's gameshop name Skaldic Games. The resulting YouTube video revealed a crude game where players aim a bull's-eye to shoot and kill people who say things like, "Can I put my weiner up your ass?" and "Oops, I just dropped the soap." (After playing a minute of the game, Sterling exclaimed, "Where's the goddamn satire? What's the satirical? Not really anything. It's just 'the thing.'")
The game makes it very clear that its goal is to shoot and kill gay people (using liberally the pejorative F-word in the title of the game). Players get points for killing gays—more points if the person killed is transgender – and they lose points for any straight people they kill. It's hard to pass judgment on the "most" offensive thing in this game, but we were particularly disturbed when we heard the game's announcer celebrate a kill by saying, "AIDS carrier eliminated."
Before the game was removed, the Greenlight page featured many comments from concerned customers, including calls for Steam to put in place a stricter filtering or monitoring system so the service wouldn't have to rely on community votes. that the mere hurdle of a $100 Greenlight fee apparently wasn't enough to deter people who would break the agency's rules. This incident followed a December back and forth between Valve and an "adults-only" shooting game dubbed Hatewhich was eventually restored on Steam Greenlight.
After KTF was removed from Greenlight, a statement was posted on the Skaldic Games site with a link to a free version of the game and an explanation of its creation. The title was originally created as a mini-game within a larger open-world adventure that Herman is still working on, he wrote, claiming that the game's lack of quality was due to the fact that it was "completed in just a few days" was made.
"These people who think that if you are homophobic in any way, you are 'resentful' and 'bigorous', and will go out of their way to destroy you in every possible cruel way," wrote Herman. "So I decided to take a path in strike that most developers are afraid to tread: piss these people off by making the most overly offensive game possible to get these idiots to prove a point."
"The teachings of Jesus Christ through quality footwear"
Herman claimed to have received emails in response to the game wishing me bodily harm, though he did not quote any of those emails to clarify what those threats were. He called the game development industry "overly sensitive and easily offended" and claimed to have been part of it "since 2007". While his personal website mentions having "worked" on games like Disney Infinity And Call of Duty Black Ops, a Google cache of his LinkedIn profile clarified that he was a QA tester for those titles rather than a developer. (That LinkedIn profile no longer exists.)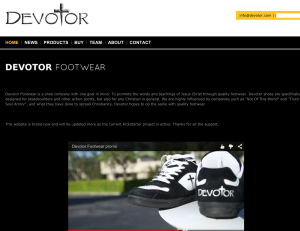 In addition to the game, app, music and skateboard projects listed on Herman's personal site, Ars Technica found another project with his full name and likeness: Devotor Footwear. Herman, who rode a skateboard while wearing Devotor shoes in the site's primary YouTube video, launched a Kickstarter campaign in 2014 on behalf of a skateboard shoe company "with one goal in mind: to promote the words and teachings of Jesus Christ through of quality footwear." That campaign was canceled before getting close to the $20,000 fundraising goal. (Herman created a separate Kickstarter account for his video game projects, but a Whoisology search confirmed that a Randall Herman with a Skaldic Games email address registered the site for Devotor Footwear.)
In an email response to Ars Technica, Herman confirmed that he has the KTF game entirely by itself and that Valve delisted and banned the game within "about two hours" of the game going live. When asked about his role in creating Devotor, Herman claimed that he only "built and hosted" the Devotor site "for a friend". When pressed about Herman posting on at least one forum saying that he "started" the shoe site himself, rather than listing other names on that forum or on the project's original Kickstarter, Herman insisted insists that he was "promoting it for a friend." He declined to comment on questions about the ideological conflict between those two decidedly different projects.
Our questions to Valve Software about the game's greenlight removal – and its apparent lack of pre-publishing filtering or monitoring for objectionable content – had not been answered at the time of writing.