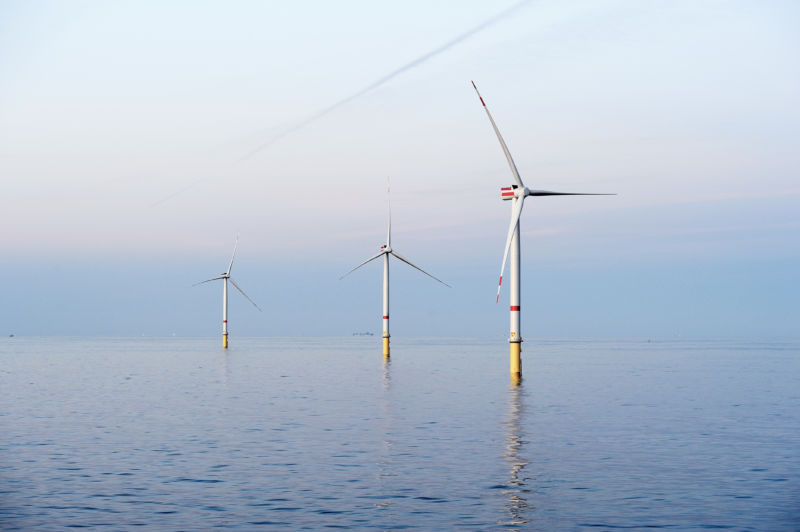 One of the largest offshore wind developers in Europe, a Danish company called Ørsted, bought US offshore wind developer Deepwater Wind on Monday. The move suggests confidence in a growing US offshore wind industry.
There is more than 15 gigawatts (GW) of offshore wind in Europe, with more capacity being added every year.
But in the US, only one commercial offshore wind rig currently generates power: Deepwater Wind's 30 megawatt (MW) pilot off Block Island, Rhode Island. Still, the Atlantic coast is seen as fertile ground for a growing offshore wind industry, as the coastal area is near huge population centers with strong, reliable sea breezes.
That is why contracts were signed in the previous year for larger offshore wind installations off the coast of Massachusetts and New York. But Ørsted struggled to land some of these bigger contracts, according to The Wall Street Journal. Despite the Danish company's experience, Deepwater Wind had more success pursuing local governments and US utilities. With the purchase of Deepwater Wind by Ørsted, the European engineering firm hopes to capitalize on Deepwater's ability to close US deals. The US company is developing a project off the coast of Long Island and a second project off the coast of Rhode Island.
According to The New York TimesØrsted paid the owner of Deepwater Wind, hedge fund DE Shaw Group, $510 million to take over the company. Deepwater Wind becomes Orsted US Offshore Wind, the Time writes.
"We can see a very large industry emerge," Thomas Brostrøm, the CEO of Ørsted's US offshore wind division, told the WSJ. "We believe we can see 10 gigawatts of offshore wind build over the next ten years – and we want to be in a good position to take advantage of this growth." Ten gigawatts of offshore wind is an enormous number. Ørsted himself says it will only have 7.45 GW by the end of 2020. This also applies to offshore wind farms in the UK, Denmark, Germany and Taiwan.
Ørsted was previously known as DONG Energy (short for Danish Oil and Natural Gas). The company recently sold its coal-fired power plants, oil and gas fields, and switched to renewable energy WSJ wrote.