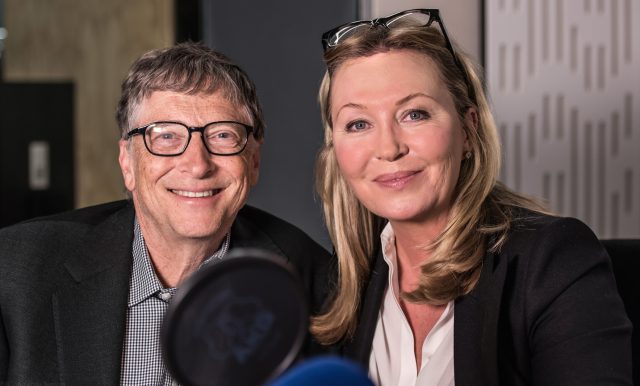 It turns out that Microsoft co-founder Bill Gates has a pretty obvious taste in music, some might even say middle ground.
The richest man in the world, who finishes a book almost every week and the Economist "cover-to-cover", appeared on BBC Radio 4's long-running Desert Island Drives program on Sunday to reveal some of his favorite songs.
Under that list? Queen and David Bowies Under pressure. He told host Kirsty Young, "In my 20s and 30s I worked a lot but some Fridays and Saturdays we went out to dance so this reminds me of those disco days with a little weekend freedom."
During the interview, Gates said – in classic nerd style – "When I went to Harvard I was a little more sociable, but I was sub par at talking to girls." He left Harvard in 1975 at the age of 19 to co-found Microsoft with Paul Allen. And a software giant was born.
Young challenged Gates on Microsoft's business practices, especially in the 1990s, when concerns that the company would become an anti-competitive monopoly were on the agenda of regulators on both sides of the Atlantic. She asked him if he had been ruthless during that period. "No," he replied. "Only if you describe super-low prices as unforgiving. It's hard to compete with someone who's betting on volume and saying 'hey, we're going to gain market share by having these super-low prices', that's very intimidating. Feeling yeah, we were aggressive."
Gates spoke poignantly at one point about how his friendship with Apple co-founder Steve Jobs, who died of cancer in 2011, became "softer" and more thoughtful when he fell ill, after years of intense competition between the two men. "Steve really loved music. He loved The Beatles, and so did I. And he called this song, the Two of us, saying that was a bit like this journey we'd been on, where we'd competed and worked together. But only we understood how intense and what beautiful memories came out of that."
He also talked about his "absolutely awesome" collaboration with U2's Bono. Inevitably, that nod of approval led to the band's number, A love, being one of the discs Gates would take to the BBC's made-up desert island.
You can hear the full track list and the one book Gates has selected during his appearance on the Radio 4 show via the BBC's Desert Island Discs website.
As for the luxury item he'd be taking with him, Gates joked, "Well, I guess asking for an internet connection is out of the rules…?"
List image by BBC