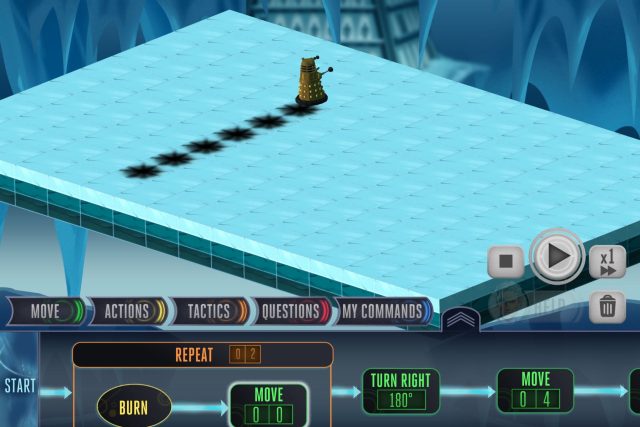 The BBC has revealed its devilish side: tricking kids into learning to code with a free Doctor who game. The Doctor and the Dalek is now available on Android, iOS and Amazon app stores and combines a platforming adventure with an introduction to Boolean logic-based programming.
Peter Capaldi, the current incarnation of The Doctor, lends his voice to the game, which was written by series writer Phil Ford. Across three worlds and 12 levels, players follow the hunt for the Orb of Fates, an ancient Time War device that unlocks the Starbane, a weapon capable of wiping out entire solar systems – and is fought by the Daleks and Cybermen. Acting as a mentor rather than the main character, the Doctor helps control a reprogrammed Dalek searching for the artifact.
The game was commissioned by BBC Learning and ties in with the government's new IT curriculum, focusing on modern computer skills.
"We've explored a variety of ideas since Tony Hall's speech in October 2012, when he announced that the BBC would have an initiative in 2015 aimed at inspiring a new generation to get creative with coding and digital technology," says Jo Pearce, executive producer for BBC Doctor Who Interactive, tells WIRED.co.uk. "Like ours Doctor who team has a digital team embedded and a key role of this team is to look for innovation opportunities where we can entertain and inspire, we saw a great opportunity to be a part of this."
Early levels offer a fairly simple platformer experience interspersed with coding puzzles that must be solved in order to progress. Switching to isometric "TARDIS Camera", with a command line at the bottom of the screen, the first is simple: tell the Dalek to change the color of its outer shell and talk to the Doctor, totaling two instructions from a selection of two. The second begins by introducing more complex commands to move the Dalek (affectionately referred to as "Lumpy"), shoot a Cyberman, and activate a switch. As they progress, players learn "if this, then that" concepts, and can take those principles into free play levels.
The interface is simple and drops commands onto a timeline, almost like a video editing program. Programming prowess is measured by the number of commands used to complete the intended goal, rewarding players for the cleanest, shortest code with power-ups that allow Lumpy to levitate and use stuns.
However, a primary development concern was to keep the game fun for kids, as well as educational. "We were clear from the start that the learning elements have to be put into a great game," says Pearce. "We have also worked closely with Rik Cross, Head of Education at Code Club, and Tom Crick, Senior Lecturer in Computer Science at Cardiff Metropolitan University, specifically on The Doctor and Dalek. And we also had a fantastic standalone storyline from one of ours Doctor who TV Writers, Phil Ford."
"With all that knowledge and expertise, we were confident that the game could help demystify basic coding logic and still be a lot of fun, but we also knew it would be just as important to put it in the hands of kids. and learn from them," continues Pearce. . "We tested early versions of the game with the help of students in Cardiff, Leeds and Midlothian [which] taught us a lot. For example, we knew that puzzle challenges were a very effective way of presenting the coding elements and that completing the puzzles should yield a vital reward. You'll see that in the final game, with a series of coding puzzles that become increasingly complex as users become more advanced."
The game, which can also be played online, is expected to impact learning in schools. "We are also very interested in how this could help teachers, as we know that tablets are used as learning tools in the classroom and detach children from a PC or desk," says Pearce.
The Doctor and the Dalek is just one aspect of the BBC's Make it Digital campaign. Expect to see similar efforts launched in 2015.
This story originally appeared on Wired UK.