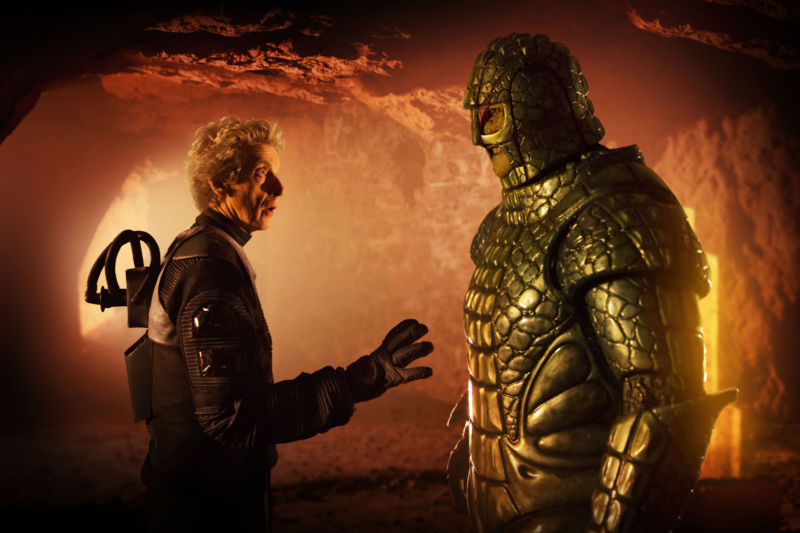 This is a review of a post UK broadcast of doctor who: Empress of Mars. River Song always warned the Doctor about spoilers, so watch the episode first. doctor whoseason 10, airs Saturdays at 7:15pm UK time on BBC One and 9:00pm EDT on BBC America.
Is Nardole's bumpy ride on the TARDIS a metaphor for season 10 of? doctor who? After a strong start, this series is now really starting to flutter. Even the performance of the three stars is mediocre at best in Empress of Mars– although the return of the Ice Warriors and some pleasant nods to classic episodes are welcome.
We're back to a loud (monsters) and quiet (negotiation) episode after the disappointing Monks trilogy with a low-key story – written by doctor who superfan, Mark Gatiss – that's a little too heavy handed with the flour, making us build a dense patch of British Empire… on Mars. We're in invasive, aggressive, downright rude territory here.
Most of it is represented by the words and deeds of one man: Catchlove (Ferdinand Kingsley). It's a funny name, since all he seems to be able to do is catch a cold from the reptile ice warriors.
The backstory almost works: Victorian-era soldiers of the British Army, stationed in South Africa in 1881, stumble upon an interplanetary ship, and once on board, discover a half-dead Ice Warrior who has been asleep for 5,000 years. His cryogenic cell is about to blink, so the soldiers agree to help the Mars, which they call Friday in reference to Daniel Defoe's novel Robinson Crusoe.
As the Doctor (Peter Capaldi) describes it, the soldiers agreed to return to his home on Friday with the plan "to claim Mars in the name of Queen Victoria. To plunder it of its riches, stake a claim . ."
The Trade Agreement – yet another hot topic in this series of doctor who (Is Gatiss by any chance referring to Brexit?) – will allow the men to dig for treasure on Mars. But at the same time, in this episode, they will unearth the real prize: Empress Iraxxa (Adele Lynch).
Gatiss isn't afraid to rely heavily on sci-fi tropes in Empress of Marsdirected by Wayne Yip who also shot last week's flop, The lie of the land. Friday's spaceship has crashed on the Red Planet and supplies are running out. Yet one does not feel much danger from their plight.
There's also sort of an apology for the number of dudes cast in this episode. Lines are awkwardly inserted into the story to account for the lack of women. Iraxxa and Bill (Pearl Mackie) have a kind of sisterhood vibe, but it's too pompous. I can see Gatiss trying to portray the women as outspoken, kick-ass characters who reject the actions of the tea-drinking, cunning men in red coats and pith helmets. But there isn't enough exchange between Bill and Iraxxa for the public to invest in. If only this episode had a Queen-off: Victoria versus Iraxxa in Mars. I'd love to see that, especially since the British monarch has appeared on doctor who for now.
I think this is one of Gatiss' more successful scripts, mainly because his love for the Ice Warriors shines through. The nerdy attention to detail about the motivations of these Martians makes the monks look even more out of place in the doctor who canon. It's also nice to have a cameo from the Galactic Federation ambassador, Alpha Centauri, voiced by original actor Ysanne Churchman. But the storyline of the series is starting to drag. We're still waiting for the big reveal and I'm getting a little impatient for something to happen.
Nardole recklessly removes his mask on Mars. Fire!

Simon Ridgway/BBC

Friday (Richard Ashton) seeks an alliance with the British Army.

Simon Ridgway/BBC

Nardole gets a pickle with a sticky TARDIS.

Jon Hall/BBC

The Doctor is stranded on Mars with Bill.

Simon Ridgway/BBC

Tea time is the right time for cookies.

Simon Ridgway/BBC

The Doctor again fails to escape with his trusty sonic screwdriver.

Simon Ridgway/BBC

Godsacre (Anthony Calf) and Catchlove are engaged in a power struggle.

Simon Ridgway/BBC

The doctor has a word with the power mad Catchlove.

Jon Hall/BBC

Greedy Jackdaw (Ian Beattie) upsets the Empress.

Simon Ridgway/BBC

He's the wrong one, that Catchlove (Ferdinand Kingsley).

Simon Ridgway/BBC

The Doctor, Bill and Friday must come up with a plan to prevent all-out war.

Simon Ridgway/BBC

Empress Iraxxa (Adele Lynch) has been asleep for 5,000 years and Mars is now a barren land.

Simon Ridgway/BBC

Catchlove really needs to drop the hate. Yes.

Simon Ridgway/BBC

The Gargantuer is made of artillery on Friday's spaceship.

Jon Hall/BBC

Nice guy Vincey (Bayo Gbadamosi).

Simon Ridgway/BBC

Turf war. Red planet style.

Jon Hall/BBC

"I dare say the British Army is more than capable of dealing with a bunch of upright crocodiles," says the odious Catchlove.

Jon Hall/BBC

The Doctor tries to negotiate with the Martian Queen.

Jon Hall/BBC

Is Godsacre a paper tiger?

Jon Hall/BBC

Don't mess with Iraxxa, she will turn you into dirty laundry.

Simon Ridgway/BBC

The doctor is surprised to see Missy at the wheel of the TARDIS.

Simon Ridgway/BBC

Is Missy planning to get into mischief in the TARDIS?

Jon Hall/BBC
Missy in action
The Doctor's Growing Reliance On Missy – Whether He's In Control To Get Her Help (Like He Did In) The lie of the land), or not (in Empress of MarsNardole, played by Matt Lucas, asks for instructions from Missy after the TARDIS starts playing up) – clearly comes with a warning sign "Do not drive machines while taking this drug". But what does it mean? Once again, John Simm's long-promised return as the master has yet to take place in Season 10, and now there are only three episodes left.
Will Missy (Michelle Gomez) return to the Simm incarnation, or will the Master and Missy appear in the same time stream, wreaking havoc? I also still have the lingering feeling that everyone is somehow still locked into the simulation machine. It would certainly explain the doctor's erratic behavior lately. But then he also becomes nervous about his own impending regeneration. I also have a suspicion of that: it will only happen in the Christmas special.
The next episode of doctor whoentitled The eaters of the light (season 10, ep 10), airs on Saturday, June 17. As always, you can watch Ars's review right after the broadcast.
List image by Simon Ridgway/BBC