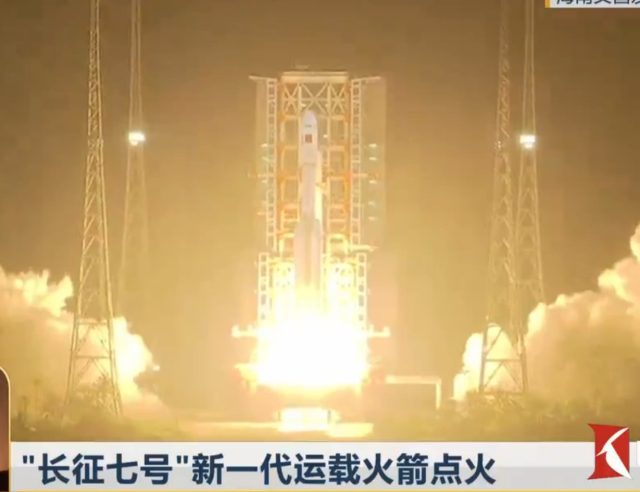 China's evolving space program took another big step forward on Saturday with the launch of its Long March 7 rocket, a new class of booster capable of lifting up to 13.5 tons to low Earth orbit (LEO). The primary payload of the flight was a dummy version of the next-generation crew capsule and some CubeSats.
The launch highlighted several important advancements for China's rapidly modernizing missile program. It was the first launch from the Wenchang Satellite Launch Center, located on Hainan Island, the southernmost point of the country. This gives Chinese satellites better access to geostationary orbit. The Long March 7 also runs on kerosene and liquid oxygen fuels, rather than the more environmentally hazardous hypergolic fuels used to power previous launch vehicles based on 1970s technology.
The new 53-meter March 7 missile is the mid-range version of a new launch family that will also include Long March 5, a heavy-lift launch system similar to the Delta IV Heavy missile, and Long March 6, a missile that will launch small satellites into space. Developed by the China Academy of Launch Vehicle Technology, the new fleet of vehicles will enable China to build and maintain a new space station, which could debut as early as 2022. Launched Saturday, the rocket is expected to deliver cargo resupply vehicles to the Chinese space station.
The core stage of the Long March 5 rocket is powered by two YF-100 engines, which China has been developing for more than a decade. The engine has a thrust of about 270,000 pounds at sea level, which is less than one of the space shuttle's main engines (418,000 lbf), but more than one of the Merlin 1D engines (190,000 lbf) used by SpaceX in its Falcon 9 missile.