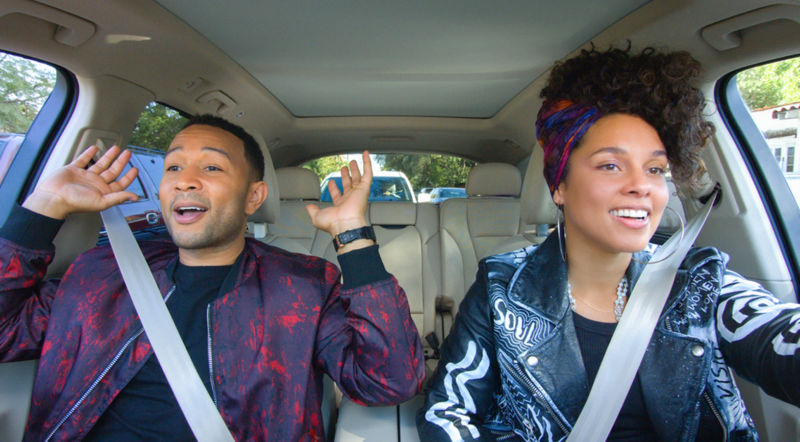 After announcing the show last summer, Apple has finally given a release date to its Carpool Karaoke series. The show, featuring half-hour episodes, will debut on Apple Music on August 8, with new episodes every Tuesday.
Carpool Karaoke: The Series is a spin-off of James Corden's popular segment on The Late Late Show with James Corden. According to Apple's statement, each episode will feature a new group of celebrities singing their favorite songs together in different situations. Released images show John Legend, Alicia Keys, Michael Strahan, Jeff Gordon, LeBron James, and James Corden, while Apple revealed Taraji P. Henson, Queen Latifah, Miley Cyrus, and the entire Cyrus family, and Game of Thrones' Sophie Turner and Maisie Williams will also be featured on the show.
James Corden is the show's creator and executive producer, but it doesn't look like he'll be joining every group of celebrities in every episode. The show was supposed to debut in April, but Apple has delayed the release for unknown reasons. There's no word yet on how many episodes there will be in the first season, nor how many seasons may come in the future.
Carpool Karaoke: The Series will be available exclusively to Apple Music subscribers in more than 100 countries. James Corden will continue to do his own Carpool Karaoke segments on his show, and those video clips are a regular trend on YouTube, generating millions of views. Corden's Carpool Karaoke video with Adele was the most viral video on YouTube in 2016. Carpool Karaoke: The Series isn't Apple's only original programming effort; the company is also working on Planet of the appsa shark cage-like reality show where developers pitch their app ideas to celebrities, including Will.I.Am, in hopes of getting support and funding.