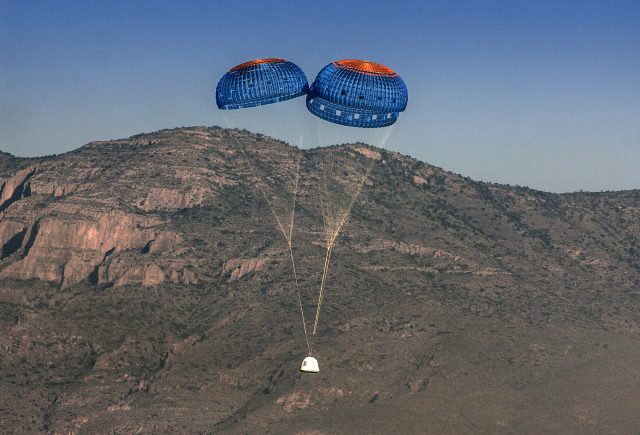 Update: Blue Origin completed what it characterized as a "flawless" mission test. During the 10-minute flight, the rocket and spacecraft performed as expected, and the New Shepard capsule made a fairly soft landing, as one of its three parachutes failed intentionally. A replay of the mission can be seen in the webcast below.
Original story: As of Sunday morning, Blue Origin plans to continue pushing the capabilities of its New Shepard launch system, as well as the boundaries of the company's own transparency.
The company secretly conducted the first two flights of New Shepard, which consists of a propulsion module and a capsule capable of suborbital flight, and only released the results afterwards. During the third flight in April, founder Jeff Bezos announced the launch in advance from West Texas and tweeted live about the progress. Now, for the vehicle's fourth flight, Blue Origin is scheduling a webcast, starting at 9:35am ET, with launch scheduled for 10:45am ET (3:35pm UK time).
The rocket company also continues to push the fault tolerances of its propulsion module and spacecraft. This time, the primary objective is to determine if the crew's vehicle can land with one of the three parachutes deliberately failing. "There are three sets of parachutes, and two of the three should nominally still deploy and, in conjunction with our retrothrust system, land the capsule safely," Bezos explained in an email. "Works on paper, and this test is designed to validate that."
The rocket and spacecraft serve two primary purposes for Blue Origin. The company plans to use this launch pad to develop a space tourism business that will allow paying customers to ride into space, enjoy weightlessness for several minutes, and then parachute back to Earth by parachute. Blue Origin has not put a price on the experience, which could begin flying space tourists in 2018. New Shepard also serves as a rocket development platform, allowing the company to repeatedly test its booster and engine designs for reusable spaceflight, which will be used in the development of a larger orbital vehicle.