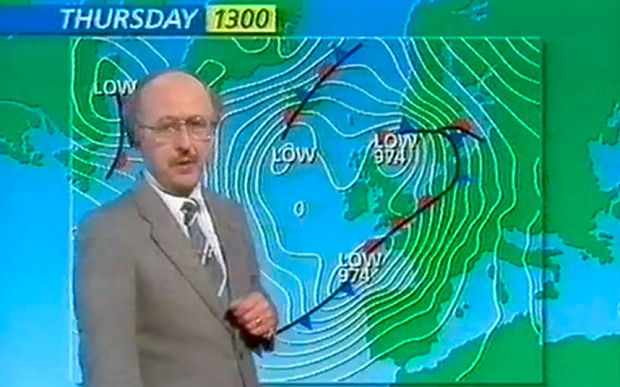 Updated August 17, 2016: The BBC has announced that MeteoGroup has won the BBC weather service contract and will fully replace the Met Office in "spring of next year".
In a press release, the BBC confirmed that the move to MeteoGroup will save us "millions of pounds".
The switch to MeteoGroup means new weather charts for TV broadcasts, as well as the BBC Weather website and its mobile apps. The "vast majority" of BBC Weather's TV presenters will continue.
MeteoGroup is the UK's largest private sector weather company, providing various weather services to Sky, Channel 4, the National Grid and dozens of other companies and institutions in other countries.
Original story (August 24, 2015)
It's a rainy Monday indeed: after nearly a century of working together, the BBC and Britain's Met Office have parted ways. The BBC is reported to be switching to a foreign weather service later this year, either MeteoGroup of the Netherlands or New Zealand's MetService.
The BBC has used data provided by the Met Office (then known as the Meteorological Office) since the very first weather report on 14 November 1922. The Met Office says it will continue to alert the BBC to severe weather, but all other data comes from another service.
It is not entirely clear why the BBC has not renewed its contract with the Met Office. The Telegraph reports that it's because the Met Office couldn't produce a "good enough mobile app" – which seems unlikely given the BBC's own weather app has an almost perfect rating. The most likely scenario is that faced with continued belt tightening, the BBC had to find a cheaper option than the Met Office. It is possible that the BBC overpaid after 93 years of contract renegotiation.
The loss of the BBC contract will be a huge blow to the Met Office, which is currently building the world's fastest weather forecasting supercomputer. The new supercomputer, which uses the Cray XC40 platform, is expected to be capable of about 16 petaflops (16 quadrillion floating-point operations per second) when it reaches full capacity in 2017. The total cost of the system is expected to be around £96. million (€130 million). We don't know the exact topology and/or specs of the supercomputer, other than that it will have 480,000 CPU cores, which probably equates to 32,000 15-core Intel Xeon chips.
At 16 petaflops, it should comfortably be the most powerful weather-forecasting computer in the world, and it just might end up in the top 10 overall. By 2017, some top-end supercomputers should hit 100 petaflops or more.
In a blog post, the Met Office's director of operations, Steve Noyes, made some very despondent comments about the breakup:
"Nobody knows Britain's weather better and during our long relationship with the BBC we have revolutionized weather communications to make it an integral part of British everyday life. This is disappointing news, but we will work to ensure that essential Met Office advice remains part of the BBC's output. Ranked #1 in the world for forecast accuracy, people trust our forecasts and alerts."
A BBC spokesman showed much less emotion about the whole matter:
"Our viewers receive the highest standard of weather service and that will not change. We are required by law to go through an open tender process and to bring out the strongest bids to ensure we get both the best possible service and value for our get money for the license fee payer."
John Kettley, the former weather presenter, is sure it's all about money: "…the Met Office will be gutted by this decision, it's a big loss of revenue," he said on BBC Radio 4. "One of the big problems over the years is that they wanted more and more every time the contract came up for renewal."