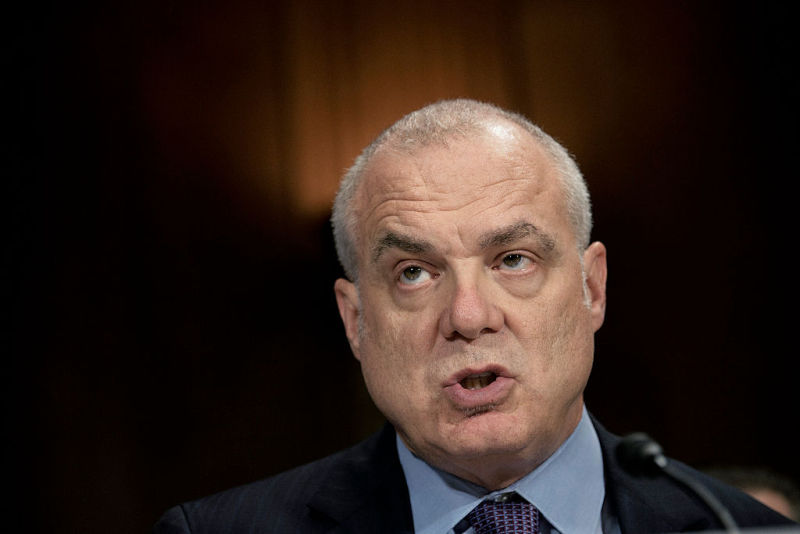 Aetna announced Monday that it will dramatically reduce its participation in public insurance markets set up by the Affordable Care Act due to serious financial losses. In 2017, Aetna will only offer insurance policies in 242 counties across four states — that's a nearly 70 percent drop from 2016 offerings in 778 counties across 15 states.
The deep cuts are largely seen as a blow to the sustainability of the health care law, which has also caused other major insurers to withdraw, namely UnitedHealth Group and Humana. But the statement that Aetna was forced to scale back due to significant profit cuts is inconsistent with the company's previous statements.
In April, Mark Bertolini, Aetna's chairman and chief executive, told investors that the insurance giant expected losses and could weather them, even calling participation in the markets during the difficult early years "a good investment." And in a July 5 (pdf) letter to the Justice Department obtained by the Huffington Post at the request of the Freedom of Information Act, Bertolini explicitly threatened that Aetna would withdraw from the market if the Department attempted to close the planned merger. of $37 billion to block with Humana.
"In particular, if the DOJ charges to enforce the transaction, we will take immediate action to reduce our 2017 exchange footprint…. [I]Instead of expanding to 20 states next year, we would reduce our presence to no more than 10 states…" Bertolini wrote.
Sixteen days after the letter was written, the DOJ decided to block the merger. Announcing the department's decision to file a lawsuit, Attorney General Loretta Lynch said it would "put much of the multibillion-dollar health insurance industry in the hands of just three giant companies, creating competition in key markets." would be limited."
In interviews this week, Bertolini has dismissed the link between market participation and the merger deal, reiterating that the cuts were all finance-based. "As a strong advocate of public exchanges as a means of meeting the needs of the uninsured, we regret having to make this decision," Bertolini said. The New York Times. He noted that as of January 2014, the company had experienced "a pre-tax loss of $200 million in the second quarter and a total pre-tax loss of more than $430 million in our individual products."
But Obama's allies did not believe the explanation. In a Facebook post, Senator Elizabeth Warren (D-Mass.) noted that Aetna has the right to challenge the DOJ over the merger. But, she said, "the health of the American people should not be used as a bargaining chip to force the government to bow to the will of one giant corporation."