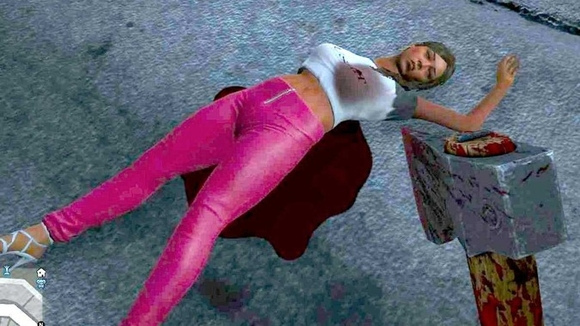 Update (December 4, 2014): Kmart Australia (not related to the American chain of the same name) has also decided to remove it GTA V from store shelves, "after a thorough review of all content in Grand Theft Auto Games," a statement said. "Kmart apologizes for not getting closer to the content of this game." The Australian Target and Kmart stores are both owned by the same parent company, Wesfarmers Limited.
Take-Two CEO Strauss Zelnick also issued a statement in response to Target Australia's decision: "We are disappointed that an Australian retailer has chosen to no longer sell Grand Theft Auto V–a title that has received extraordinary critical acclaim and is enjoyed by tens of millions of consumers around the world. Grand Theft Auto V explores mature themes and content similar to those found in many other popular and groundbreaking entertainment properties. Interactive entertainment is today's most immersive art form, sharing the same creative freedom as books, television and movies. I stand behind our products, the people who make them and the consumers who play them."
Original story
Major physical retailer Target Australia stops selling Grand Theft Auto V in the 300 or so stores after an online petition condemning the game's depiction of violence against sex workers garnered more than 40,000 signatures (the chain is not directly related to the US retailer of the same name).
In a statement posted online, Jim Cooper, Target Australia's General Manager of Corporate Affairs, cited "customer feedback on the game's depictions of violence against women" and "extensive community and customer concern about the game" when taking the decision.
"We've spoken to many customers about the game over the past few days and there is significant concern about the game's content," Cooper said in the statement. "We've also had customer feedback supporting us in selling the game, and we respect their views on the matter. However, we feel the decision to stop selling [GTA V] is in line with the opinion of the majority of our customers."
Cooper's new statement represents a reversal from his position in an article published yesterday by News.com.au (since updated but archived here). "We have to listen to our customers and there are as many defending the right to buy the game as there are who want it removed," he told the news site. "But just asking Target not to sell the game won't make any difference to its availability. … We respect the sincerity of people who don't want it sold and their opinions are valid, but we're a seller for everyone, as long as we sell the game responsibly."
That interview prompted a sharp rebuke from the creators of a Change.org petition urging Target to "pull Grand Theft Auto 5-this sickening game encourages players to commit sexual violence and murder women."[ing] women into strippers and prostitutes" and have players kill prostitutes for "health points."
"How can Target ever compare someone's 'right' to buy a sexually violent video game to the right of women and girls to live in a culture free of sexual violence?" petitioners asked in an update, adding that those who shared the petition online were "amazed at the level of abuse and harassment they have received in response."
A counter-petition on Change.org urging the Australian government and retailers to "protect the artistic freedom of video game developers" from the "Feminism Hate Group" has garnered just over 250 online signatures in less than a day.
In a recent interview with Bloomberg TV, Take-Two CEO Strauss Zelnick defended the content GTA Vsaying the game is set in "a criminal setting; it's a gritty underworld; it's art. And I embrace that art. And it's beautiful art. But it's gritty… We stand shoulder to shoulder with other big movie releases, big television shows that explore a similar universe. So yeah, this is a tough universe because it's a criminal universe."
Target Australia will continue to sell other games and DVDs that match GTA V's R-18+ rating, Cooper said, adding that "in the vast majority of cases, we believe these are appropriate products to sell to adult customers." That is in contrast to the major New Zealand retailer The Warehouse, which recently quoted Grand Theft Auto V in its decision to completely stop selling R-rated games and DVDs.
Australia has a long history of government censorship of adult-themed games. From 2005 through 2012, the classification of games containing content deemed too mature for an MA-15+ rating was denied by the Governmental Office of Film and Literature Classification, thus banned from sale in the country. Games like Post, Fallout 3And Left 4 Dead 2 were denied Australian release under this system, although some were later released in slightly watered-down versions. After years of debate, the Australian government introduced a higher R-18+ rating for games in early 2013, bringing the content rating system more in line with that for films.
In sentencing two drunk teenagers involved in a gas station robbery earlier this year, a judge from Adelaide, Australia, incredulously cited their desire to "emulate or replicate" Grand Theft Auto V. "That game is a well known and widely used game and this is the first time I've heard it said that it could have been the basis or the reason why an offender went on to rob a gas station," Judge Paul Rice said.
In the US, most major retailers refuse to sell games with the ESRB's rarely used Adults Only rating. Rock stars Manhunt 2 And Grand Theft Auto San Andreas were both pulled from many US stores after hackers discovered hidden content in the games, leading the ESRB to retract their previous M ratings.