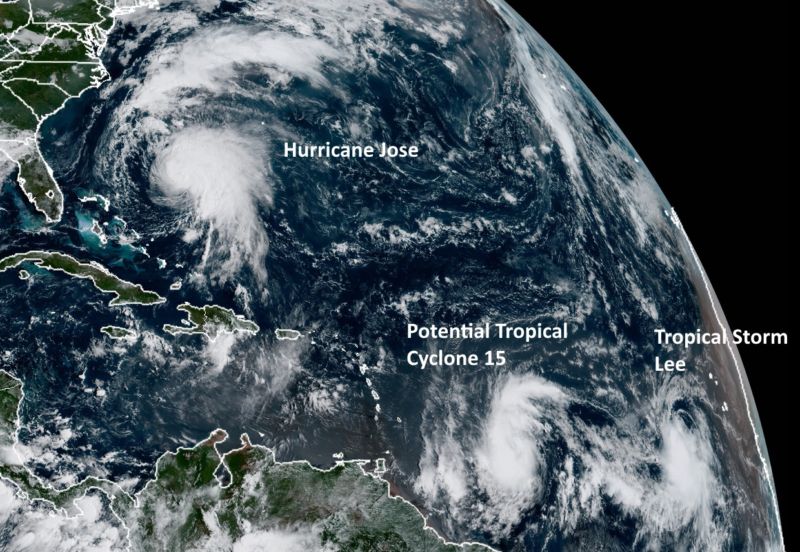 Despite the comings and goings of two major hurricanes that hit the United States over the past month – Harvey and Irma – we are in the middle of a very active Atlantic hurricane season that may not be over. Not only does the US East Coast need to keep an eye on Hurricane Jose as it finally begins to advance, but there is another threat lurking behind it.
This post looks at the three active Atlantic storms and their possible effects on the Caribbean islands and the United States over the coming days and weeks.
Hurricane Jose
Jose has roamed the Atlantic Ocean for more than 10 days, but is now finding the guiding currents that will take him to dissipation or a transition into an extra-tropical cyclone. Here's the latest forecast track from the National Hurricane Center, published at 11 a.m. ET on Saturday.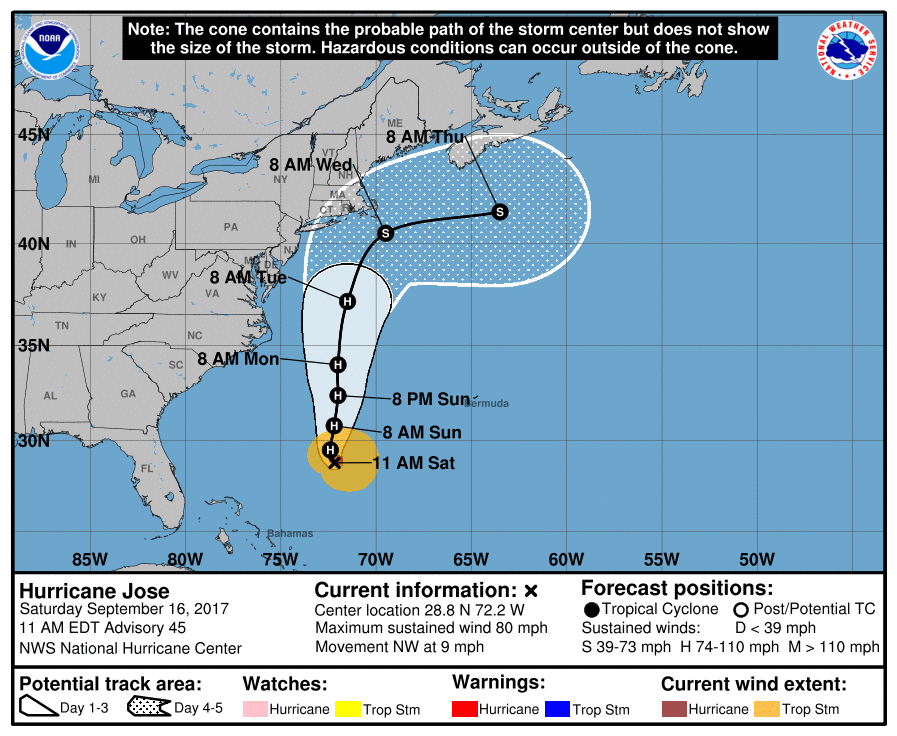 Fairly good agreement remains in Jose's track through about Tuesday, as it tracks the western edge of a high-pressure system centered over the Atlantic Ocean. If Jose moved further north after this point, we could be concerned about the storm moving into Long Island, Newport, Rhode Island or Cape Cod. Later on Tuesday or Wednesday, however, most model guides and ensembles show Jose being picked up by the mid-latitude westerly winds and pushed away from the United States.
By Tuesday or Wednesday, Jose will pass over colder waters as well, and this will likely weaken Jose's current sustained winds of 80 mph, giving it tropical storm status.
Given this track and intensity forecast, we shouldn't be very concerned about Jose and its effects on the United States. This isn't another Harvey or Irma. While conditions could get worse as Jose takes a more westerly path or unexpectedly intensify, I wouldn't expect anything more than some rain and gusts in New York City at this point, possibly 2 to 4 inches of rain in Cape Cod, and some dangerous surf and rip currents along the east coast.
Tropical Storm Lee
Like its namesake, Ars' beloved editor Lee Hutchinson, Tropical Storm Lee is becoming a weak, energy-efficient system. It may gain some strength over the next few days, but during that time it does not pose a threat to the landing. After that time, all model guidance suggests that wind shear will eat its lunch. Kind of like how bullies beat up Lee and took his lunch money. Or so we were told.
Potential tropical cyclone 15
Unfortunately, the same cannot be said for a new developing tropical storm. The 15th storm of the season is likely to move across the Leeward Islands early next week, threatening Puerto Rico and Hispaniola on Tuesday or Wednesday. Here's a look at the 10-day forecast from the members of the European modeling ensemble for this system: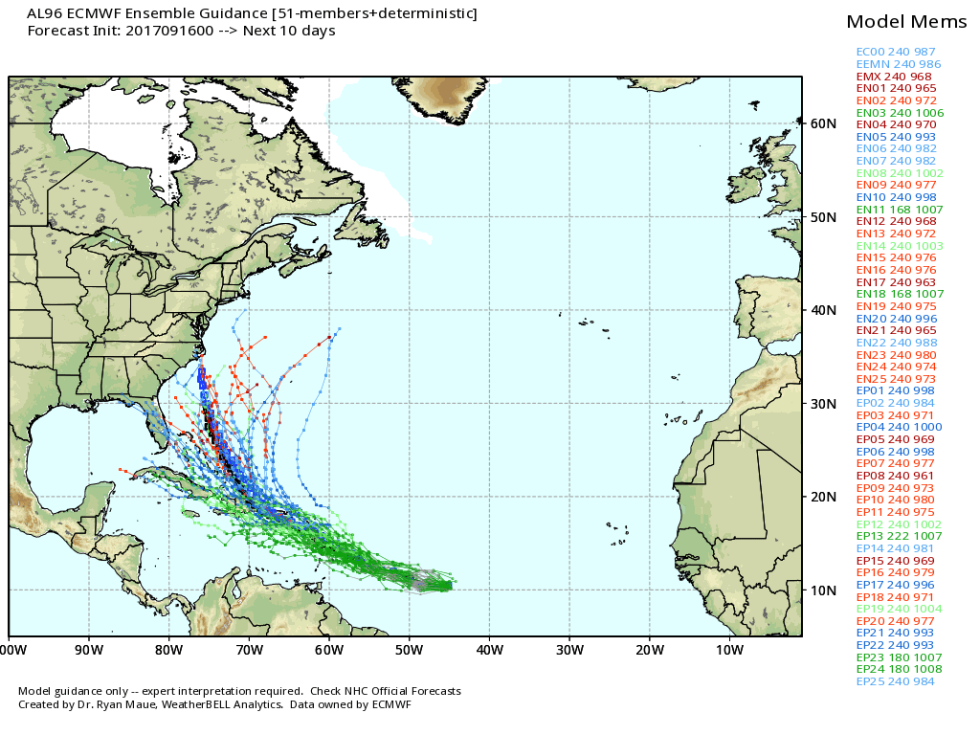 Unfortunately, wind shear is relatively low along the storm's projected path for the next five days. In addition, the sea surface temperatures in this area are quite warm (Irma's orbit did not produce cooler water this far south). So there should be little to inhibit the intensification of the storm. Conservatively, I think, the National Hurricane Center has this as a Category 1 hurricane with winds of 90 mph by Thursday morning, near Puerto Rico. It has the potential to be significantly stronger than that.
In the long term, it is too early to say whether this storm will threaten the Bahamas, Florida or parts of the US East Coast. But given the way storms have increased this summer, people in those areas should probably keep an eye on this developing cyclone and its future track.