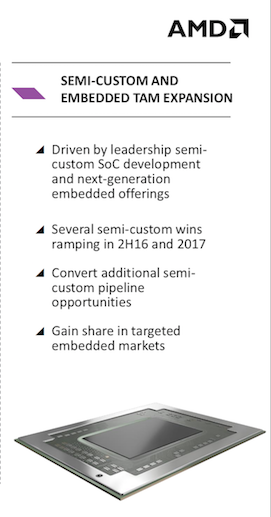 During AMD's Q1 2016 earnings call on Thursday, AMD executives estimated a 15 percent revenue increase in Q2 2016, plus or minus 3 points, and they cited three semi-custom system-on-chip (SOC) "wins" as the "bigger driver for that revenue. AMD estimates that these SOCs will generate $1.5 billion in revenue "over the next three or four years". At least one of those three SOC deliveries will begin "ramping" in the second half of this year, with all of those SOCs launching by 2017.
The reason news is interesting is because AMD's SOC products have mostly been the core components in small form factor game consoles over the past few years, and major news leaks have linked one of those upcoming AMD SOCs to the "Neo" refresh of the PlayStation 4, which could launch as early as October this year.
AMD's CEO Lisa Su clarified on the earnings call that these semi-custom wins were related to the gaming sector, describing "semi-custom business and gaming" as the "bigger driver" of Q2 revenue growth. "If you think about the semi-custom business in recent years, the third quarter is always the highlight," Su told reporters. "It will be the peak this year as well, but we're starting some of the ramping in the second quarter as we build into the stronger third quarter."
But who buys those other two gaming-related SOCs? AMD remained coy when asked directly: "I don't believe we've gone through any detail about what those wins are," Su said in the call. "I'd rather let that come out when our customers are ready to launch."
One of those SOCs could very well end up in Nintendo's upcoming console, which the company began publicly acknowledging as "Nintendo NX" last March. Nintendo only tapped AMD for a GPU with its Wii U console, but speculation about an incredibly powerful NX leads us to believe that Nintendo will ditch IBM as a CPU supplier and this time look for a more elegant, integrated SOC solution, which AMD might very well foresee. In addition, reports last October speculated that this system would include "at least one mobile unit that could either be used in conjunction with the console or taken on the road for separate use." If that rumor is true by the time the Nintendo NX is announced this year, it could mean that AMD has shipped two different SOCs for both the Nintendo NX's primary console base and its "separate use" handheld controller.
If that NX rumor does not However, please note that we have a SOC that could end up in a new Xbox-branded console. According to Su's statements, any unannounced SOCs would end up in "another console or a new console" as opposed to "the current generation", so this would describe not only an AMD contribution to an "Xbox One Slim" model, but the there's no telling at this point if Microsoft would actually make an Xbox 1.5 console as a result. (In any case, there will definitely be some sort of new Xbox hardware unveiled in June.)
Su told reporters to expect the Polaris GPU rollout in the "second half" of 2016.