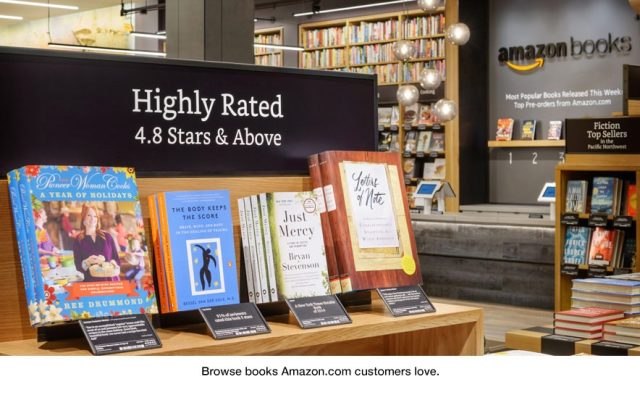 Literary fans in Seattle no longer need their MacBooks to buy the latest bestseller: they just have to stroll down to the local Amazon Books store. Today, the online retailer opens its flagship physical outlet in Seattle's University Village. According to a press release, the selection of available titles is based on Amazon.com customer reviews, pre-orders, sales, popularity on Goodreads, and curatorial ratings. If you need even more convincing, Amazon Books also stocks "review cards" to make sure you know exactly what everyone was thinking about your potential purchase.
Interestingly, the books are all displayed "face-out," meaning customers can see the covers, rather than just the spine. The reason for this, Amazon Books Vice President Jennifer Cast explains, is that the company wants to showcase the authors and their work rather than trying to cram as many things onto a shelf as possible. The first Amazon Books store is quite large with 510 square feet of retail space and 185 square feet of storage space.
Amazon emphasizes that the price of books in-store will be the same as what you would find online. And for those looking to buy something electronic rather than a fancy hardback, there's also the option to check out the company's range of devices. This includes products from the Kindle, Echo, Fire TV, and Fire Tablet series. Unsurprisingly, there's no mention of the Fire Phone, Amazon's rather disastrous foray into the Android smartphone industry. The Seattle Times notes that this first Amazon Books store will not be a location where you can pick up online orders.
When asked if the Seattle store is the first of many Amazon Books stores, Cast said, "We're totally focused on this bookstore…we hope it won't be the only one, but we'll see."