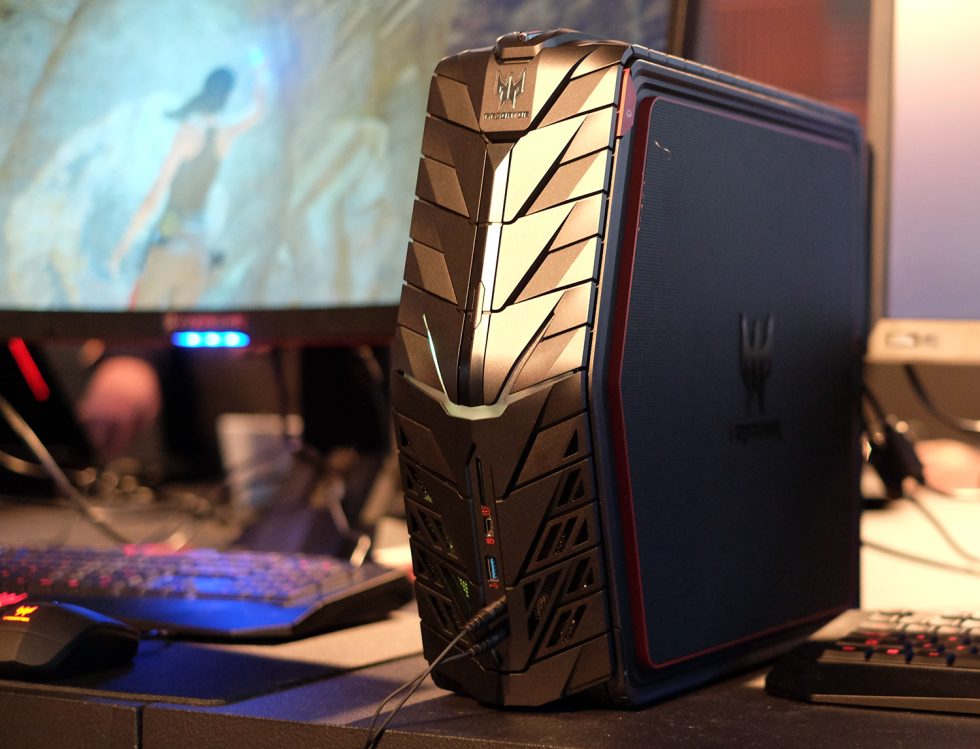 Say what you will about Valve's Steam Machines and Steam OS – they're not great – but they've at least encouraged PC makers to rethink living room PC design. And with HTC looking to turn front rooms into VR labs with its excellent Vive VR headset, there's a small but growing demand for decently sized PCs to fit alongside a PlayStation or an Xbox. Acer's new Predator G1 gaming desktop doesn't quite manage to slim down to PlayStation 4 proportions, but it does cram Nvidia's monster Titan X graphics card into a chassis just bigger than a briefcase. Compared to a typical gaming desktop, or Acer's own Predator G6, it's decidedly small. The question is, how did Acer do it?
The Tardis Effect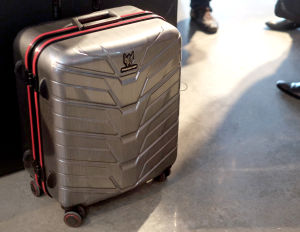 Acer says the Predator G1's case is built a little more like a gaming console than a regular tower PC, with a clear airflow path through the case that helps cards like the Titan X stay cool under load. However, if you remove the side panel, nothing crazy happens. It has a metal cage around the GPU, designed to function as a heat sink and as a way to protect the card in transit, but the Predator G1 uses conventional fans rather than water cooling or other similar "next-level" antics.
While there's a clear appeal for people wanting a VR setup suitable for a living room environment, Acer is also aiming the G1 at those looking for a semi-portable system. That's right, the first 1,000 buyers will receive a matching piece of luggage designed with the Predator series' signature armored look. No, it's still not small enough to get around Ryanair's draconian hand luggage restrictions thanks to the extra cushioning it packs in to protect the PC – and I wonder how much space is actually left for clothes in the thing afterwards – but hey, if you're in the market for a small gaming pc it's a nice bonus anyway.
A matter of configurations
While Acer pitches the G1 as one of the smallest high-performance desktops out there, it's not just for boring gamers who aren't smart enough to make their own PC – the Titan X is the best spec available, not the only one. Acer says the G1 will start with a GTX 960 GPU, with specs going up from there. The price for the low-end model is a cool €1,199 / $1,399 (£940), with availability from June. Getting the most out of the components will get you a €2,199 / $2,399 price tag.
An Acer Predator G1 with an Nvidia GTX 970 would make a great 1080p gaming machine for the living room, although at this point you might want to wait and see what Nvidia's Pascal or AMD's Polaris bring. Both are brand new graphics architectures that promise greater efficiency and performance, and official announcements for both are rumored to be coming at any time.
The Predator G1 has a 16-liter trunk that dwarfs the older G6
The exact dimensions of the G1 are 114mm x 348mm x 418mm, so while it can easily fit into smaller rooms, the G1 isn't a wallflower like any other member of the Predator range. It has the usual Predator plastic armor on the front and more LEDs than a storefront in December. The power button lights up and there's an LED glow emanating from the heat channels on the front, but it's the cutout on the front that really grabs your attention. It features multi-colored LEDs that are programmable with an Acer app. Acer calls them "grow lights".
Expansion plans
When using a smaller PC case to build a rig, expandability is a major concern aside from dealing with heat and noise. The G1 is somewhat limited here in certain respects, and those with discerning needs should really think about building their own setup.
Storage options include up to 512 GB SSD and 4 TB 3.5-inch HDD. There is then only room for another 2.5-inch drive. The G1 also doesn't have the right enclosure for an optical drive, even if you were to consider trading in the full-size hard drive for an optical drive. The G1 also has four DIMM slots and can be configured with up to 64GB of 2133MHz DDR4 RAM. As you might expect (sorry AMD), the G1 uses Intel's Skylake CPUs, starting at i5 and going up to i7.
Compared to the average desktop PC, the back of the G1 looks pretty plain. It's not packed with the many expansion slots of a larger system, but otherwise has all the connections you're likely to need. On the back are four full-size USB 3.1 ports, a full-size Ethernet jack, a set of 3.5mm audio inputs and outputs, and all the ports your chosen graphics card offers. On the front, the Acer Predator G1 stands out as a next-generation machine, with a USB Type-C connection supporting USB 3.1 Gen 2 for 10Gbps bandwidth. This sits alongside another full-size USB 3.1 connection and an SD card slot.
A sound card is one of the few components you could theoretically upgrade via USB, but the motherboard has a built-in Creative Sound Blaster X-Fi chip, which will do the job for 7.1 audio. However, Acer seems to think that with the Predator G1 you're using a headset rather than a great big surround system. There's a headphone stand built into the housing, just like the G6. It's a piece of red plastic that pops in and out of the side with a finger prick.
If you're into overclocking to get a few extra FPS out of your games, then the G1 isn't for you. There are some overclocking features built into the system, but it is designed to operate within tested limits.
The small frame makes the G1 much more sensible than the G6, but questions remain about how well Acer handles cooling in the smaller chassis. Only a proper stress test will determine whether Acer has created a system adept enough to avoid throttling and sounding like a vacuum cleaner, or whether it will happily run a 20-hour Witcher 3 session without any problems. Not to mention, if you're so inclined, you can build a smaller machine with just as capable parts for less money.
Andrew Williams is a freelance technology journalist who has been writing in the field for 10 years. He covers just about all areas of consumer technology, with a particular interest in how it all works beneath the layers of glossy finish and impressive-sounding jargon. He can be found on Twitter at @wwwdotandrew.